2021 Money Trends
15 AUGUST 2023
Financial services in 2020 were re-defined by a sudden acceleration in the adoption of digitization and digital engagement – as a result of the COVID-19 pandemic. Major stock exchanges shut down their trading floors and moved to remote trading. Mobile banking transactions spiked, whilst personal trading apps saw record transaction volumes. Lastly, call centre personnel kept their customer support going by working from their living rooms.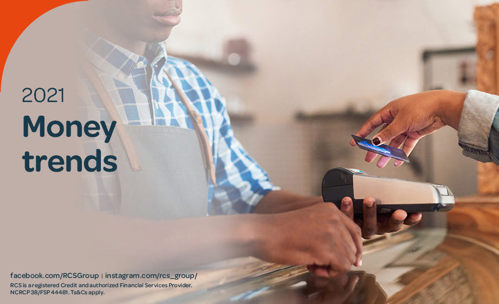 Here are a few financial trends that look set to continue in 2021:
Banking goes beyond cash with digital engagement
Between the first quarter of 2020 and the same time in 2021, contactless payments have seen transactions increase by at least 50% in more than 100 markets. Contactless payment options demonstrated their viability and vitality one year into Covid-19. Mastercard processed 1 billion more contactless transactions all over the world in the first quarter of 2021 alone, compared to the same period in 2020.
All indications point to contactless payments continuing its growth trajectory, with nearly seven in ten consumers expecting to continue using contactless options. In a study done by The Index, over 57% of South African consumers stated that they would avoid shops that did not take any form of electronic payments. Additionally, slightly more than 77% of South African respondents indicated that digital payment methods aided in their financial savings.
86% of South African consumers now have more payment options than they did a year ago at this time. The surge in enthusiasm for new payment technologies may push merchants to increase their payment alternatives at the point of sale.
Insurance becomes personal
In 2020, insurance companies were faced with a major health crisis, economic distress, and an uncertain future. This redefined how they operated almost overnight to provide stability, comfort, and peace of mind for their customers. It has become clearer more than ever that even the most useful products are tailored to the specific needs of their customer, and that hyper-personalization will continue to define the customer journey in 2021.
Work-from-home must work across financial services
Throughout 2020, global restrictions for people to stay-at-home challenged businesses everywhere to keep employees engaged, productive, and connected in their new workspaces. As a result of the pandemic, corporate offices became unavailable overnight - with entire financial services workforces relying on their at-home internet connections with their existing VPN and virtual desktop infrastructure solutions to do their work.
The Struggles of NeoBanks
In South Africa, there is currently an explosion of neobanks that are leapfrogging traditional banking in favor of a totally digital strategy. However, one of these neobanks, TymeBank, is attempting to connect with its customers by fusing the agility of digital banking with face-to-face interaction.
This tells us that they believe that South Africans require human interaction to assist them in navigating financial items that many find intimidating. While they have their work cut out for them, their ethos that everyone has the right to accessible and affordable banking remains admirable.
Enough about predicted financial struggles, how can you manage your money better money in 2021 and beyond? Here are a few 'future money' trends to keep an eye out for this year:
The End of Cash
South Africa is progressively shifting away from cash as the world swings toward digital payment options, despite a social and economic backdrop of inequality and weak economic growth. South Africa will achieve a cashless society by 2030, as a result of recent planning and execution methods by the Payments Association of South Africa.
Diana Bresendale, a graduate of the University of Stellenbosch Business School with an MPhil in Futures Studies, discovered that while moving to a cashless society offers apparent benefits, it may produce and accentuate new concerns. The lowest income earners use cash at a higher rate and hence face the brunt of hidden charges more frequently.
Government-Backed Currency Virtualization
Countries will start accepting lower-increments than what currently exists, with the option of a digital-only currency that will also be flexible enough to cover for taxation, especially for a mobile workforce - which is even more in demand now due to the COVID-19 pandemic.
MORE ARTICLES ABOUT
RELATED ARTICLES