Things to consider when taking out a student loan
10 AUGUST 2023
Before taking a loan do research on what student loan would be best for you and the best repayment plan to ensure you are not left with mountains of student debt.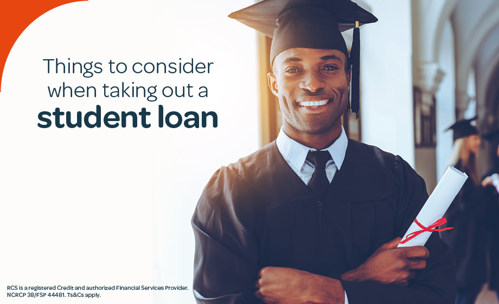 The start of your university career is a huge step and can take months of preparation. Don't let student debt put you off of starting your journey on the right foot. Learn more about how to go about taking out a student loan and the responsibilities associated with it.
WHY TAKE OUT A STUDENT LOAN?
The price of higher education in South Africa is quite expensive and even so, the life of a student. You have to budget for food, books, stationery, and social expenses as well. Which can be a lot to take care of.
Taking out a student loan can minimise some of these stresses of living as a student. And students who are familiar with loans will already know the responsibilities of having one. Student loans cover tuition, textbooks, living fees, travel expenses and other supplies. This makes it different from personal loans, as they are catered to cover your unique needs, with lower interest rates and longer repayment periods.
TYPES OF STUDENT LOANS
There are three different types of student loans that would be suited for your unique circumstance and how much support you would need.
STUDENT LOANS FROM THE GOVERNMENT
The biggest student loan lender in South Africa is managed by the government. The National Student Financial Aid Scheme or NSFAS is available to students who study at the 25 public universities in SA. The amount that you are loaned depends on your specific tuition costs. The interest rate once you begin your repayments is 80% of the repo rate which is significantly lower than loans you can take out with the bank.
STUDENT LOANS FROM THE BANK
Student loans from the 4 major South African banks differ from NSFAS loans as a surety or a sponsor has to apply on your behalf. This could be your parent or guardian. The surety has to earn a high enough income, have low debt and have a clear credit history in order to be applicable. Interest rates are higher than NSFAS but can differ from lender to lender, so it is important to do as much research as possible to find what suits your needs.
STUDENT LOANS FROM INDEPENDENT CREDIT PROVIDERS
Independent credit providers such as RCS, Just Money, FUNDI, Eduloan etc. provide student loans that offer various specificities to cater to a student lifestyle. Learn more about each offering before you make your final decision.
APPLYING FOR A STUDENT LOAN
If you have decided to begin your higher education career, make preparations to apply for a loan as soon as possible. Important documents such as certified ID's, proof of residence, bank statements and proof of enrolment in an institution are key requirements when applying for a student loan.
NSFAS student loans require you to pass a Means Test and have an overall good academic performance. As student loans from the banks are applied for by your surety, ensure that their credit history is clear, and their disposable income is accounted for.
HOW DO REPAYMENTS WORK?
Start saving before you begin repayments so that your responsibilities after studies are not as stressful and student debt does not hinder your successes.
Repayments for NSFAS loans begin once you have graduated and started earning an income that is higher than R30 000 per year. If your income falls between R30 000 - R59 000, repayments will be 3% of your yearly salary. If it falls above this threshold, payments will be 8% of your salary.
Student loan repayment from banks are split into two periods. The first being while you are still in school and your surety pays interest. The second period begins once you have graduated, you are required to pay the balance of the interest as well as begin your monthly instalments. The repayment period is fixed once you take out the loan, so it is important to be fully prepared.
HOW TO DEAL WITH STUDENT DEBT
Income Protection Plans can help you with student debt when you can't start earning an income yet due to illness or accident. If you pass away while owing a student loan, an income protection plan can assist your family when paying debt. With RCS, you receive a Hospital Daily benefit and a Death benefit at R49 per month.
To pay student debts off fast, talk with your lender and set up ways that will allow you to pay the minimum installment over a longer period of time. This ensures that you are consistently paying off your debt while being able to do what you love most.
WHAT TO REMEMBER
Student loans are there to assist you in reaching your dreams within your university career but come with responsibilities. Before taking out a loan, do research on what student loan would be best suited to your lifestyle and the best repayment plan that ensure you are not left with mountains of student debt to pay. Remember, consistency is key and protect your financial future with plan B's so you can live your life as a student to the fullest.
NEED A LOAN TO PURSUE YOUR DREAMS?
Apply for an RCS Personal Loan and you could get the cash you need to further your studies. With an RCS Personal Loan, you can get up to R250 000 cash in your account within 24 hours, plus flexible repayment options. Don't wait! Sign up today.
MORE ARTICLES ABOUT
RELATED ARTICLES