Questions to ask your financial advisor
15 AUGUST 2023
Choosing the right financial advisor to best suit your investment and security needs can seem like a daunting task. Knowing what their qualification initials before their name on their office door represent as well as what they specialise in can also be difficult to grasp. Luckily, we're here to make all that much easier to navigate!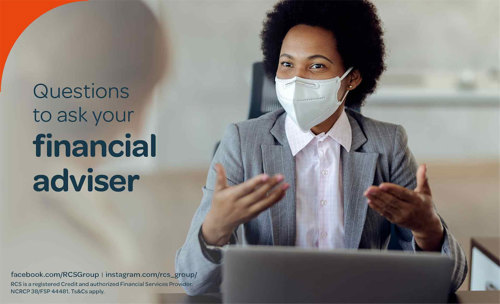 With that in mind, here are some of the most important questions to discuss with your financial advisor:
Question 1: Are you a fiduciary?
A fiduciary operates with their clients best interests at heart. They are required by law to put the needs of their clients above their own. However, non-fiduciaries are only required to recommend specific products that best suit you as a client regardless of it falls within budget or not.
Question 2: Are you independent?
This is an important question to ask as an independent advisor does not have any affiliation with insurance companies. Independent advisors make use of a variety of service fee plans. For example, fee-only advisors may charge a certain percentage based on the assets they manage on your behalf. The most common fee is usually around 1% of your assets they manage. Independent advisors charge either a flat fee or an hourly fee for their services. If cost is a concern, you may want to go with a virtual assistant or an online planning service that best suits your budget.
Question 3: What are your qualifications?
Many professionals within the financial field usually have a host of initials behind their name, which can become confusing if you are not aware of their meaning. Financial advisor's practices' are required to be registered with the Financial Sector Conduct Authority (FSCA). The Financial Industry Regulatory Authority's professional designations database will explain these initials that allow you to deduce things such as; Their area of specialty; if there are any education requirements; if anyone accredits the designation; whether there's a published list of disciplinary actions and if you can check professional status.
Question 4: What is your fee structure?
With regards to arranging payment for their services, each financial advisor could have a varied system in place. For example, they could work via the following arrangements: Fixed fee, Hourly fee, Assets under management (AUM), or on a commission basis.
As a result, it is important to ask your financial advisor how your fees will be calculated, as well as how the advisor themselves will be directly compensated. For example, "Fee-only" advisors are compensated directly by their clients. Additionally, these fees are completely transparent, as the advisors did not receive any hidden compensation for their advice.
Question 5: What are my all-in costs?
Being aware that there are additional costs involved that go beyond that of your advisor themselves is important when budgeting to make use of their services. This will allow you to get the full picture of what exactly you are spending your money on. Choosing advisors whose fees fall comfortably into your budget will benefit you in the long-term as you are able to put more money away into savings.
Question 6: How will our relationship work?
Having a good relationship with your financial advisor is crucial, considering they are performing actions using your finances, not their own. Luckily, you can determine aspects such as how much access you'll have to the advisor, how often you will meet with them to discuss updates, etc; and lastly whether or not they are available for calls or emails outside of scheduled appointments.
Question 7: What investment benchmarks do you use?
Your financial advisor should be incorporating benchmarks that have a relevant correlation to what they are investing your funds into, or have the knowledge and ability to explain why they choose not to pursue those avenues. Example questions you could ask include: What is their process for choosing specific investments for your account? Do they make use of individual stocks or mutual funds? How often do they rebalance or change your accounts?
Question 8: What are the services you provide?
This question will allow you to determine whether your financial advisor has a focus in a specific area, or if they adopt a more comprehensive approach. For example, some of their most common services might include aspects such as general financial planning and investment management. However, it is common that many users have needs that go above and beyond the basics, such as the service of tax planning.
It should be second nature for a financial advisor to provide you with a comprehensive list of the services they offer. If their answer comes across as vague or confusing, that might be a red flag to take your business elsewhere.
Question 9: What is your investment philosophy?
Understanding the approach or philosophy your advisor follows is critical in determining whether it aligns with your own goals and expectations when investing your hard-earned cash. Questions you could ask them further could include: What is their selection process to choose the right investments for your account? Do they use individual stocks or mutual funds? How often do they rebalance or change your accounts? These are all important questions to answer to make sure you know who is making the investment decisions with your nest egg.
Question 10: Where will my assets be held?
Being aware of the identity of who holds/ custodies your assets is vitally important. It is strongly advised that you confirm your financial advisor makes use of a major third-party custodian to hold your investment or retirement accounts. A few well-known custodians include Fidelity, Schwab, and TD Ameritrade.
As a result of your advisor working together with a trustworthy third-party custodian, they can't go rogue with your money. This is because they possess very limited authority when it comes to managing your investments as well as overseeing your account. Additionally, a third-party custodian provides their investors with FDIC and SIPC insurance, whilst also making use of online services that enable you to have full access to your accounts. The majority of them also have physical locations that you can visit to arrange your account viewing.
MORE ARTICLES ABOUT
RELATED ARTICLES