What Is the Process of Credit Application?
10 AUGUST 2023
Each credit application will differ based on the lender you approach to apply for credit with.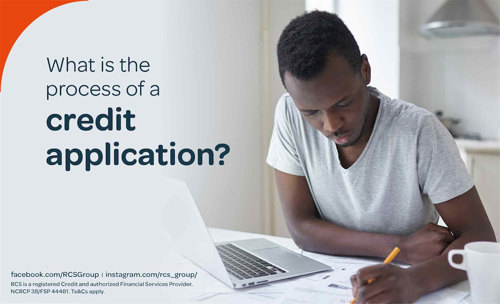 A credit application is an application filed by a prospective borrower and submitted to a credit lender. A credit application can be submitted in writing either through online and offline modes or orally in person at the lender's premises. Some lenders may charge a fee to process credit applications. With that in mind, here is everything you need to know about credit application processes:
Agreeing to the terms
When agreeing to terms set out by lenders, it is important to take all of your borrowing options into consideration first. This will allow you to determine whether or not the current loan type you are considering best suits your need as well as your overall financial capabilities when paying it back. External loan factors such as the interest rate amount attached to your loan will determine how it impacts your total cost of the loan. Upon first glance a lower monthly repayment may seem extremely appealing and affordable, you would end up paying more in the long-term as your loan repayment period will be longer than that of a higher installment.
What do you need to apply for credit?
Valid South African ID
Proof of residence no older than 3 months
1 month's payslip
3 months' most recent bank statements
Step by Step Process of the application
Listed below are the required steps needed to complete the credit application process:
STEP 1: Apply for credit from a credit provider of your choice, after conducting sufficient research
STEP 2: The credit provider will start processing your application, this step consists of sending enquires to various credit bureaus and awaiting feedback
STEP 3: The credit bureau will respond to the enquiry and will issue a report to the credit provider
STEP 4: After assessing the report, the credit provider will decide whether your application is risk free as well as whether it should be accepted or declined
STEP 5: If the credit provider grants you credit, they will determine the interest rate that you qualify for, as well as the deposit amount that needs to be paid if required to borrow credit
STEP 6: The credit provider will notify you of the terms of business. However, in the event that the credit provider declines your application, it is most likely a result of advisement from the credit bureau.
STEP 7: The Ombud will ensure that both the credit provides and the consumers play fair.
What are the implications of a personal loan?
Before you apply for a personal loan, make sure you understand how it could negatively affect your credit score:
Upon applying for any type of credit, lenders will be required to access your credit card report so they can assess your level of risk when it comes to nonpayment. Furthermore, the request brings with it a hard enquiry on your credit report, where it will remain for 2 years. A hard inquiry can lead to your credit score decreasing slightly, but it should recover after a few months or up to 1 year later. The overall impact it has on your account will also decrease as you build up credibility by making consistent on-time bill payments.
In the event that you happen to miss a single monthly repayment, your personal loan will end up hurting your credit as your payment history makes up 35% of your FICO Score. Diverting funds to cover the missed payment is not an advisable option as it may have a domino effect when it comes to delayed payments on your other accounts.
Understand what fees could be applied and what fees you can avoid by reading our article about personal loans and how they affect your credit score.
Credit score needed for most optimal interest rate
Your credit score is a three-digit number that is calculated based on your credit reports. It is an indication of your history with credit and will show lenders how responsible you are with debt.
Credit scores can range from:
Exceptional credit: 800+
Very good credit: 740 to 799
Good credit: 670 to 739
Fair credit: 580 to 669
Poor credit: 579 (and below)
The higher your credit score, the lower risk you are to lenders as opposed to low credit scores with more risk. This then affects the type of deal you are offered on loans and credit in terms of fees and interest rates.
To find out more about advantageous credit score tips, check out What credit score is needed for a loan?
MORE ARTICLES ABOUT
RELATED ARTICLES