How to create a beautiful garden in a small space
22 AUGUST 2023
A home garden has a range of benefits; not only can tending to it become a rewarding hobby, but it can provide you and your family with fresh, healthy produce and save you money.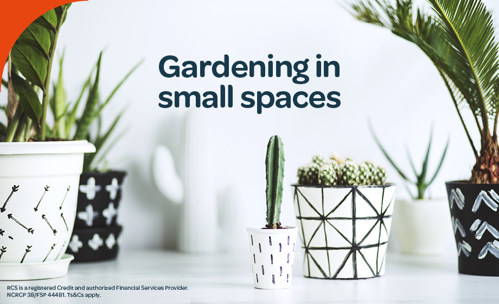 With continued tough economic conditions, a rising unemployment rate and the COVID-19 3rd wave here, many South Africans may find it increasingly difficult to keep up with rising food prices. A home vegetable garden can help you manage your budget more effectively as you channel the extra cash towards other expenses, or simply save. Here's where to start;
TINY GARDENS
Planting seasonal fruit, vegetables and herbs can provide you with a variety of fresh produce throughout the year. Start by learning which vegetables are best planted and harvested when, how much space they need to grow, and the amount of maintenance they require.
BALCONIES
Vegetables such as cucumbers, peppers, tomatoes and broccoli can grow quite well in small spaces such as a balcony. Depending on how much sunlight your balcony gets, you can plant different vegetables in pots of varying sizes.
POT PLANTS
Speaking of pot plants, you can really get creative when adding them to the inside of your home. Think about creating a minimalist herb garden on your windowsill, using hanging plant holders, or even a wooden stepladder to display a few of your favourite plants.
GENERAL TIPS
Clear the clutter and have a plan for your garden.
For a chic garden, stick to three colours (with green being one of them).
Start your garden with a base of evergreen plants that will look beautiful even in the winter months. You can then add seasonal plants for variety.
MAKE IT HAPPEN!
Some produce can easily be regrown without the use of seeds, including lettuce, potatoes, ginger and even avocado, to name a few. Put these on your next essentials shopping list at your local Checkers or Pick Pay using your RCS Store Card and get planting. Get up to 55 days interest free* on each purchase.
*Service and initiation fees apply.
MORE ARTICLES ABOUT
RELATED ARTICLES