How can I check my credit score for free?
10 AUGUST 2023
How can I check my credit score for free?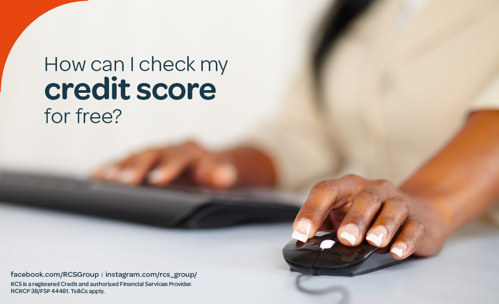 How do you know if your credit score is rated as good or bad in the eyes of financial institutions? You may be asking yourself – How do I check my credit score? Can I check it for free? The answer to both those questions is yes - with the added convenience of being able to do both at the same time, using one of the many sites that will be explored further in this article.
The importance of knowing your credit score
Before we explore the importance of knowing your credit score, let's start with the elements that make up your credit score. A credit score is a three-digit number used by banks and other financial institution lenders to determine whether you qualify for credit - such as a loan or whether you're able to apply for a credit card. Your credit score is based on your credit report - a record of your credit history and how you've managed your finances in the past. This allows lenders to assess your level of risk when you apply for credit.
Where can I check my credit score for free?
There are a vast number of online vendors who offer the service of being able to check your credit score for free, so where do you start looking? Here are the top 6 sites we'd recommend using to check your credit score online, for free:
Pros:
Clearscore provides access to your financial data - including credit reports and scores, as well as Open Banking data.
Clearscore has a page on their website dedicated to helping users learn more about their credit score with articles showcasing tips and advice for improving their score.
Cons:
Response time to online form enquiries can be inconsistent.
Their online interface can be confusing if you are not familiar with credit scores.
Pros:
Experian provides free credit reports as well as scores on "My Credit Check" and "My Credit Expert", which are their own, easy-to-use, online portals.
Experian offers handy tips to help users better understand their credit report to ensure all of the information provided is correct.
Cons:
Experian is rarely used as a standalone tool to make credit decisions.
Like most credit bureaux, Experian can take upwards of 20 days to respond to a complaint/issue to gather the necessary documentation and records from their side.
Pros:
Pricing - You can view your credit report for as little as R25.
Users receive 1 free credit report per year.
Cons:
Online response time can be unreliable.
When signing up for their "free" credit report, some users reported their information being taken without being given the free report.
Pros:
Wide range of digital tools to analyse your financial situations to provide relevant help & advice.
Kudough users get exclusive offers and savings!
Cons:
Poor customer service both online and telephonically can be frustrating.
Advice given by consultants went against the that of which users wanted to improve their credit score.
Pros:
Credit Bureau combines the financial data held at 4 of SA's leading Credit Bureaus to its users in a simple consolidated view.
Their choice of using SA's 4 leading credit bureaus allows for minimal instances of misinformation during disputes.
Cons:
Online response time is poor, with little to no engagement when online inquiries are made.
Pros:
TransUnion provide the most complete and multidimensional information available to help their customers make the best possible financial choices.
TransUnion partners with banks, healthcare providers, property managers and other companies to help their customers see a bigger picture and apply effective business strategies.
Cons:
Online response time can be unreliable.
Some users report they have completed the registration process but are not given their free credit report upon completion.
How do I know if my credit score is good or bad?
Credit scores range from the below:
Under 300: No Credit - If you haven't yet opened any credit accounts, you do not have a credit history. This is a clean slate, so start building a good credit score as soon as you can.
300-579: Poor - Having a poor credit score is a result of having a damaged credit history from multiple defaults on different credit products and different lenders.
580-669: Fair - Being in the "fair" category can result from having a few negative impacts on your credit history, but no major problems. Interest rate options offered may be limited but are still available.
670-739: Good - A good credit score is an average score and will receive competitive interest rates. However, it could be more difficult to qualify for certain types of credit at ideal rates.
740-799: Very good - This is an ideal credit score to have as it represents a lower risk rate to lenders, indicating that you are financially responsible with credit. To get this credit score, make your payments on time and never default on loans.
800-850: Excellent - Being consistently responsible with your repayments and managing your credit leads to an excellent credit score. You may receive lower interest rates on credit cards, loans, or mortgages as you are considered very low risk for defaulting and late payments.
Learn more about Credit Score Ratings & Ranges in South Africa.
How do you fix something on your credit report?
The following steps, according to Nerdwallet, will help you fix any errors on your credit report:
1. Ensure you check all 3 of your credit reports for potential errors
There may be small differences among your reports because some creditors don't report your account activity to all three bureaus. It's important to review all three of your credit reports, in case a negative event is recorded on one and not the other.
2. Have all the necessary documentation ready and available
Depending on the error, the things you gather to support your case could include:
Copies of credit card statements or loan documents
Copies of bank statements
Copies of birth or death certificates, or a divorce decree
If you've reported identity theft, include a copy of your FTC complaint or police report.
Documentation to provide for your dispute
In addition to the above, you'll need to provide:
Proof of identity
Your Social Security number and date of birth
A copy of government-issued identification (such as a driver's license or passport)
Your current address and past addresses going back two years
A copy of a utility bill or bank or insurance statement that includes your name and address
3. Dispute errors you have discovered on your credit report
The online dispute process is the simplest and fastest way to resolve an error on your credit report. Other ways to dispute these errors are calling or writing a letter. Be sure to check the website of your credit provider to get in touch with them in the best way possible.
MORE ARTICLES ABOUT
RELATED ARTICLES