How to qualify for a personal loan in South Africa?
10 AUGUST 2023
As the economy deals with the repercussions of a global pandemic, our finances may still need some assistance recovering. Personal loans can provide the means to improve your financial position, post Covid-19. Ensure that you remain eligible for a personal loan when it is most needed.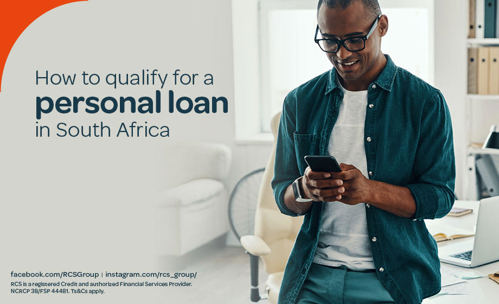 What's the deal with personal loans?
Personal loans are used to pay for various expenses as they are flexible and are taken out without needing collateral. However, because of this, they do pose a larger risk for money lenders (banks, credit institutions etc.). Lenders thus take into account multiple factors when assessing the needs and status of a borrower. These are:
Your age You are eligible for a personal loan from between the ages of 18 to 60 years old. Beyond this age range are certain limitations when taking out a personal loan.
Employment status Being self-employed or earning a salary as a regular income improves your chances of qualifying for a loan. Lenders are more likely to offer professionals working in private, government and multinational companies due to higher job stability and employer reputation.
Work experience Along with your employment status, some lenders require a minimum of 2 years of total work experience and a minimum of 6 months in your current position
Minimum income Lenders and credit institutions differ in the amount of minimum income you require so be sure to check with multiple lenders when making a decision to take out a loan.
Your credit score Credit card repayment and previous loans informs your credit score calculated by credit calculators. Ranging from 300 to 900, with lower scores associated with less irresponsible borrowers. Read how to improve your credit score here.

How are personal loans calculated?
The most important factor taken into consideration when checking for personal loan eligibility is if you are able to repay consistently. This is calculated through two methods to determine your maximum loan amount. These are both dependent on your income.
The Fixed Income to Obligation Ratio (or the FOIR) method assesses the total monthly payouts that you will need to make to pay off any outstanding loans or credit card repayments. Your application may not be approved if this number is above 50% of your income.
The Net Monthly Income (NMI) method functions by fixing the maximum loan amount with a multiplier on your net monthly income. If the eligible personal loan amount exceeds 30 times your NMI, your application may be rejected.
Keep your finances on track
Personal loans provide extra support when it is needed most and can improve your current financial status if taken out responsibly. However, always make sure you don't overextend your borrowing, and contact your financial advisor if you need help making a loan decision. 
IN NEED OF A LOAN?
Take the guesswork out of the equation. Apply for an RCS Loan from R2 000 and up to R150 000 with interest from as low as 15%* and you will know if you qualify in seconds. Use our fast, paperless online application here.
*Service and initiation fees apply.
MORE ARTICLES ABOUT
RELATED ARTICLES