Store Card vs. Credit Card in South Africa
10 AUGUST 2023
Store cards can be quite different from normal credit cards, despite how they can be used. Learn how both types of cards work to maximise their use and benefit to you. Store cards (or retail accounts) and traditional credit cards are very commonly used throughout our day-to-day financial decisions. There are respective pros and cons and rewards that come along with each.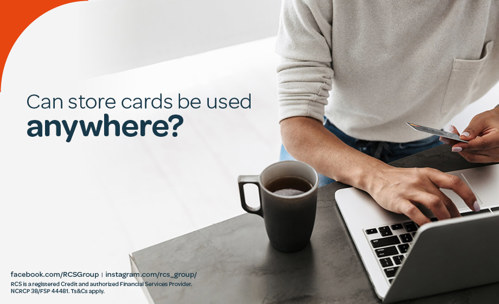 STORE CARDS
What are they?
You might have been asked at the payment point of a store if you would like to sign up for their store card and save a certain discount. Store cards are a form of credit card that is branded for a specific store, used to purchases items on credit from that store or chain. In some instances, they can be better to use when buying on credit rather than a traditional credit card. With a store card, you can buy items on credit and then pay them off at the end of the month.
Advantages
Most store cards carry discounts on purchases you make, for example, a 20% discount when buying an item with your store card. Purchasing with a store card can also save on deals such as 2-for-1 etc. which can be helpful if you are a regular customer at the store. For a first-time credit card user, store cards can be easier to qualify for and start building a good credit history.
Disadvantages
Discounts and deals might encourage you to spend more than you can actually afford, so it is important to stay on top of your finances to avoid doing so. Another disadvantage is that you are only able to buy with your store card at that particular chain of stores, so it can be limiting in terms of the selection of products. Store cards also have a credit limit, which might be easy to max out if not used carefully.
Interest
Store cards have high interest (often higher than normal credit cards) which increases if you do not pay in full each month. Avoid purchasing unnecessary large items on a store card as they could cost you more in the long term. They have an average of 24.15% APR as of July 2020 and they do not offer a 0% interest-free period like credit cards.
Rewards
They can also function as "cash back" cards, meaning that each purchase you make with your store card gives you cash back or points to use when purchasing other items. And even then, these rewards can be limited to certain items or until you have reached a certain amount of points.
Application
Stores have different application methods, including applying online through a quick and easy process or in-store. Most applications need your ID and basic information to qualify for a store card.
CREDIT CARDS
What are they?
Traditional credit cards are payment cards that are issued by lenders to users to be able to pay merchants on credit, i.e. based on the promise that you will pay the lender back (with interest and other charges). They are issued by financial institutions, such as RCS, and banks and can be used for different situations.
Advantages
Credit cards are accepted more widely in countries and merchants than store cards, giving you more freedom to compare prices. They can also offer security on your credit card purchases by covering lost, damaged, or stolen items. This makes them more secure than store cards, especially for bigger purchases or investments. Credit cards are the best tool to help you build a good credit score, as long as you make your repayments in time.
Disadvantages
If you fail to do, the cost to borrow and use your credit card is higher than a store card. Irresponsible use of a credit card can lead to creating debt and a negative credit score. Applying for too many credit cards can also damage your credit score.
Interest
Credit cards have a lower interest rate compared to store cards, depending on the amount you apply for. Generally, lenders charge an interest rate of 21% after an 0% interest-free period. This interest-free period is usually 55 days, meaning that you pay no interest during that period if you repay your credit.
Rewards
Some credit cards allow you to take advantage of rewards and promotions. For example, online bookings or deals. Be sure to check your contract for other rewards when applying for a credit card.
Application
Credit card applications are a little more complicated than store card applications. Depending on your bank, you will need to have built up a credit history to show that you are able to manage credit responsibly. However, there are also credit cards that financial institutions can issue to first-time applicants. Documents you might need are your ID and proof of income.
STORE CARDS VS. CREDIT CARDS
These two types of credit have advantages for certain situations and disadvantages for others. Review why you might need a credit card, for example, is it to start building up a credit history with small purchases you can manage, or is it to pay for larger expenses that you aim to payback? Understanding their respective uses will help you make the most of each type of card.
MORE ARTICLES ABOUT
RELATED ARTICLES