When and Why Do I Need a Will?
15 AUGUST 2023
Your last will and testament is an important tool in ensuring your loved ones are left with what you intended for them.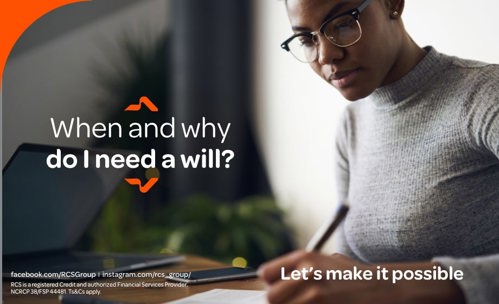 Wills are often misconstrued to be for wealthy people alone but that isn't true. Anyone who has assets can draft a will which will allow their surviving family members peace of mind in the event of their death. For a will to be valid in the eyes of the law it has to meet some requirements. You can seek help from an attorney to assist you in drawing up a document that gives you a say over your prized possessions during your lifetime.
So what is a Will or Testament?
A Will is a legal document that stipulates how you wish your assets such as money, property and other possessions to be distributed in the event of your death. The most familiar type of will is called a testamentary will which is prepared and signed in the presence of witnesses. Having a will in place is instrumental in assuring that your assets are acquired by whom you wish, and reduces the risk of confusion and lengthy administrative requirements from your family and business associates.
You can write a will yourself or have it prepared by a trust or estate attorney to ensure it is clear and is in line with the law. Additionally, for the will to be valid it must have a clause which revokes all your previous wills if there are any. It must be signed by the testator and witnessed by two competent witnesses over the age of 14 who are not beneficiaries in the will.
How do I get a Will?
To prepare a will begin by compiling a list of all your assets and debts (everything you wish to transfer to a person or entity) then make a list of your beneficiaries. Drawing up a list of instructions that specifies the recipients of assets will help the executor distribute or settle your estate efficiently. This letter can include account numbers, passwords, and burial instructions for example. The executor should be someone you trust and can be a family member or an attorney. If you haven't appointed one the court will appoint one on your behalf. If you don't seek professional assistance in drafting a will you can use templates available online.
What Happens If I Die Without A Will?
When you draw up a will you take control of your estate and see to it that it benefits those who you wish it to benefit after your death. If you die without a will in place the law states that your estate should be allocated in terms of the law of intestate succession, which means it will be divided amongst your spouse, children and family members in line with a set formula. Life insurance policies, retirement plans and trusts are generally payable to a named beneficiary without regard to the terms of a person's will. RCS offers affordable funeral cover products to help ease an otherwise difficult time for your family.
When do you need a will?
Your spouse is close to you so it is imperative for you to state in writing whether you would like for them to be a beneficiary of your assets when you pass on. If you want anyone other than your spouse to receive any of your assets, then you need a written will that makes those wishes clear.
If you have children, you are able to appoint guardians in your will. It is important to consider who you would want to have take care of your children, and include that in your will. You may want to draw up a will if you own any assets that you would like to leave to specific people or entities.
MORE ARTICLES ABOUT
RELATED ARTICLES