Why you need to pre-qualify for a loan
11 AUGUST 2023
Trying to find the best loan to suit your needs? Prequalifying for a loan will allow you to see certain details of your loan without harming your credit score. Read on to find out why this is important.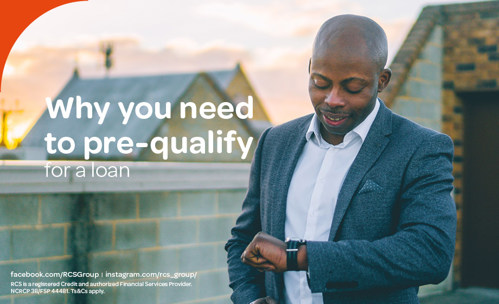 Deciding to take a loan out is not an easy one. It involves research and comparison to try to find the loan with the best terms for you. There are many types of loans and various lenders that offer different loan agreements to borrowers. You would want to avoid higher interest rates, so it's important to find out what interest rates lenders are offering. To do this, you don't need to apply for different loans, as applying involves a hard credit inquiry which could harm your credit score. Pre-qualification involves a soft credit check that doesn't harm your credit score and allows you to see the best interest rates, monthly payment rate, and loan amount for you.
Pre-qualification does not guarantee a loan, as it functions as an assessment of your credit and the loan you want to apply for. The interest rates and loan amount details that are shown through pre-qualification is applicable to change after you have accepted the loan offer and your lender performs a hard inquiry. The pre-qualification process is always free and can be easily done through the phone or online. It can take around 3-4 days to pre-qualify for a loan, so nothing is stopping you from pre-qualifying for loans to help you make an informed decision.
Pre-qualification steps
Fill out a pre-qualification form with information surrounding your income, existing debts, and employment status.
The lender will conduct a soft credit check or inquiry to assess your credit score and credit history. This will help the lender determine your creditworthiness and the details of the loan.
After this, the lender can either deny or grant your loan pre-qualification. For the latter, you'll receive details surrounding the loan you could receive, which includes interest rates and the total loan amount.
You will be able to decline or accept the pre-qualified loan offer. Accepting will mean that you need to formally apply for the loan which will trigger a hard credit check.
What is the difference between pre-qualification and pre-approval?
These two terms can be used interchangeably when it comes to pre-qualifying for a personal loan, so be sure to read the fine print. However, when you apply for a mortgage, pre-approval is an extensive process that can include a hard credit check. A hard credit check usually involves a consent form so you will be able to notice the difference.
Pre-qualifying for a loan will help you find the best loan suited to your needs without harming your credit score. This gives you the ability to prepare for what you will need to budget when going into a loan agreement.
MORE ARTICLES ABOUT
RELATED ARTICLES