Why Insurance Is Important in South Africa?
15 AUGUST 2023
Read why insurance is a must in the times we live today and will only bring a sense of security to those we care about most.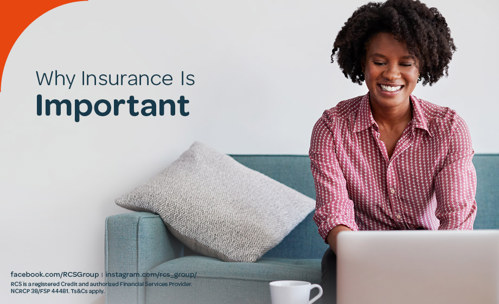 Protecting your financial future is just as important as planning for it. Although insurance might take priority after other concerns, it is crucial to be prepared for certain situations to minimise future financial fallbacks. There are various types of insurances that will help you protect your goals and ambitions in life. Understanding the need of having insurance ensures that your financial security remains stable.
The importance of insurance
Buying insurance can seem like a confusing concept as, in essence, you are purchasing protection against something that could possibly happen in the future resulting in financial loss. Insurers, insurance companies, and carriers provide insurance packages or plans against instances such as loss, damages, accidental death, etc. So, why does insurance matter?
1. It protects your family and your loved ones
If you are the breadwinner of your family, and your income is the main source of financial security then insurance is extremely important. Your family or loved ones depend on you and your income to provide and sustain their standard of living. When you pass, insurance ensures that this standard of living will still be maintained.
2. Provides income protection
In some instances, falling ill or sustaining an injury means time off work without pay. This can also make meeting certain financial responsibilities difficult for your family. Income protection plans supplements income when you are unable to work so that your family is still able to pay monthly expenses.
3. Guaranteed financial support
Beyond providing for your family's financial needs, insurance also enables you to leave an inheritance, help pay off debts or funeral expenses. This relieves the financial burden that your family might experiences.
4. Gives you peace of mind
The future is unpredictable, we don't know what it holds or when it is our time to go. Insurance provides peace of mind as it is one component in life that we can be sure of no matter what happens. Having peace of mind knowing that your family's futures are protected when you're not around can elevate your quality of living.
Types of insurance
The various kinds of insurance are put together specifically for certain life situations and circumstances. It is important to know what type of insurance you are needing for the future. These are;
1. Health Insurance
The National Health Insurance (NHI) is a national health financing system that helps provide access to health services for South African. This means that state healthcare should provide primary services to the citizens that need it the most for free and that everyone is theoretically covered by public healthcare. For private healthcare, private health insurance or medical aid covers certain medical situations like dentistry, maternity cover, general doctor visits, etc.
2. Car insurance
Car/vehicle/auto insurance covers your cars, trucks, or motorcycles against damage from accidents or theft. It provides financial protection when you have incurred damages; the insurance company pays out your losses in exchange for a premium when you take out car insurance.
3. Life insurance
One of the more common insurance types, life insurance, ensures that you and your family are financially protected in the event of a death, injury, or severe illness. This support can take the form of a lump sum or as regular monthly income to help alleviate financial stresses placed on your family after your passing; eg. education, medical, or for life goals such as marriage or starting a family.
4. Funeral Plan
Funeral expenses can be a burden on your family, one that is not needed on top of the loss of a family member. Funeral plans are designed to cover the cost of a funeral when you or a loved one passes.
5. Personal Accident Plan
In the case of disability or death caused by accidents, a personal accident insurance plan covers your medical costs. Monetary compensation is dependent on the nature and severity of the injury/accident.
6. Income Protection Plan
An income protection plan supplements your income if you are unable to work because of severe illness or injury. This provides you and your family with financial security in the form of monthly income over a period of time.
7. Homeowners insurance
This type of insurance, otherwise known as home insurance, is a package policy that covers damage to your property or private residence. It insures your house and the belongings in the event of a destructive disaster or accident such as a fire.
8. Umbrella insurance
This insurance is extra liability coverage that protects you from expensive and large claims or lawsuits that are not covered by other insurance policies on your name, for example, home or car insurance.
9. Renters insurance
Similar to home insurance, renters insurance provides liability coverage and protects your personal property against damage such as fire or theft. Renters insurance is less costly compared to home insurance is it does not cover the actual dwelling but rather your belongings.
10. Travel insurance
Travel insurance protects you against any unforeseen losses that occur when travelling domestically or abroad.
11. Pet insurance
This insurance can help pay part of the total veterinary treatment for an ill or injured pet. It can be received on a monthly basis or can be paid out if the pet passes or is lost/stolen.
What to expect when applying for insurance
Applying for insurance is a process that is best manageable when properly prepared for. Your insurance company will require you to undergo a medical exam or answer a few medical questions. Depending on the type of insurance you are applying for, be prepared for questions around your health, possessions, and future plans.
Your insurance premiums are calculated by taking account your age, medical history, life history, and credit score. Insurance companies also take into account statistics of injury or death according to your age and gender. Before applying for insurance, assess your situation and why you are needing it. Insurance is a must in the lives we live today and will only bring a sense of security to those we care about most.
MORE ARTICLES ABOUT
RELATED ARTICLES