4 Financial mistakes to avoid with your first job
16 AUGUST 2023
Financial lessons are there to be learnt at every stage of our lives. Four RCS team members share what they learnt at the start of their careers.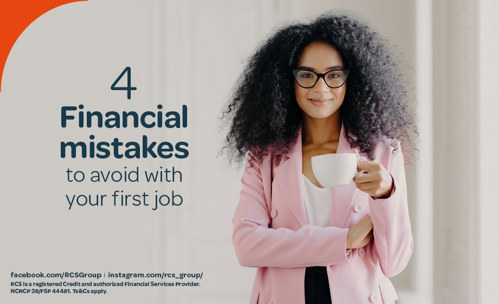 Landing your first job is an unforgettable milestone that's only surpassed by getting your first salary. With that said, it's also a life stage that comes with great responsibility and no 'how-to' manual. As a result, for many, entering the job market came with many hard financial lessons.
To help you make better and informed decisions that will set you up for financial success early in your career, four RCS team members share the lessons they learnt.
PORTIA, CREDIT CONSULTANT: DON'T DELAY SAVING
Looking back on her 10-year career, Portia says not learning how to save in order to further her studies at the start of her career is a mistake she'd like others to avoid.
"At the start of my career, I spent my salary on clothes and vacations," says Portia. She then realised that in order to further her career, she needed to study, leading her to stop buying luxuries on the spur of the moment by drawing up a strict budget. "I also opened a savings account and ensured I kept my credit record clean."
MAUREN, CREDIT CONSULTANT: DON'T LIVE BEYOND YOUR MEANS
Living within one's means is a lesson Mauren learnt early in her five-year career. "I had to learn to avoid any unnecessary credit and overspending. I now make sure I live within my financial means."
SHAHEEDA, CUSTOMER SERVICE AGENT: INVEST WHEN YOU CAN
Not making any investments as soon as she was able to afford to is one mistake Shaheeda would like others to avoid.
"I never thought about investing my money for the near future and had no budget, which led me to spend money on unnecessary items which I did not think about," says Shaheeda. "I learnt that you also need to have a back-up plan for the future in case life throws a curve ball your way. As a mother, she says the COVID-19 pandemic is an example of how important that is. "Having a kid, it's crucial to work within a budget that will benefit you and your family in the long run."
KIM, ANALYST: AVOID UNNECESSARY DEBT
Kim, who has been working for five years, learnt early in her career that debt, in her words, is "no game." Kim's lesson is simple yet powerful: "save before you spend."
IT'S NEVER TOO EARLY
Learning how to budget effectively and keep a healthy credit score are some of the important steps you can put in place as soon as you start earning an income. Empower yourself with more financial wellness tips to create a solid financial foundation that will be fruitful for you and your family.
MORE ARTICLES ABOUT
RELATED ARTICLES