5 Reasons you need a financial planner
11 AUGUST 2023
You don't need to earn millions to meet with a financial planner.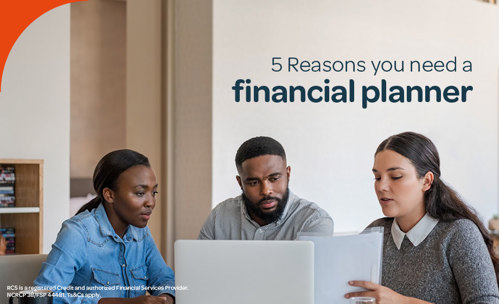 You may have thought that financial planners are for the wealthy. But nothing could be further from the truth. A financial planner helps you plan for your financial future so as to live the life you want.
Here's why you need a financial planner, no matter your income:
BUDGET PLANNING
A financial planner can help you draw up a plan for your short- to long-term goals, and find ways to optimise your income and accelerate your savings to achieve them faster.
INVEST SMARTLY
Investing smartly depends on a number of variables. Financial planners can help you invest smartly depending on your goals, appetite for risk and current circumstances.
PROVIDE SECURITY FOR YOUR FAMILY
From putting in place the right policies to securing the right types of insurance, a financial planner can help you ensure your family's financial well-being is taken care of, even when you're no longer around.
ONGOING FINANCIAL ADVICE
Consult your financial planner before making rash financial decisions. When your circumstances change, be it in the form of a promotion, growing your family or planning for your retirement, a financial planner can equip you with the right information and guidance that best suit your life stage and circumstances.
GAIN ASSETS
A financial planner helps you consider all factors when gaining assets. While growing your pool of assets is great, it also comes with its own liabilities, which you may overlook. A financial planner specialises in considering these.
SET YOURSELF UP FOR FINANCIAL SUCCESS
If you can afford it, find yourself the right financial planner to help you achieve your financial goals.
Enjoyed this financial wellness article? Why not read one of the following:
Habits for financial wellbeing
Make affordability work for you
4 money lessons to teach your kids
MORE ARTICLES ABOUT
RELATED ARTICLES