A word of wisdom: Four SA businesswomen weigh in on gender equality
29 SEPTEMBER 2023
The business case for diverse and inclusive teams is as compelling as the strategic case. Where women entrepreneurs and business leaders are in place, businesses tend to be more commercially successful, and more resilient. Women have shown themselves to be 'big-picture thinkers', and leaders who are more tuned into how their decisions and actions affect their families, their communities and society at large.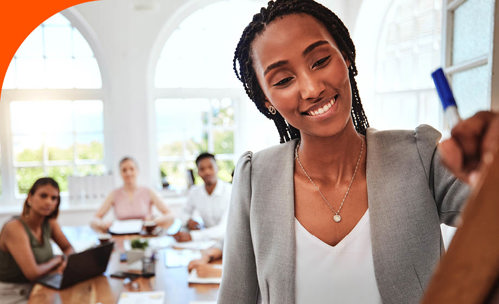 This is the opinion of Karien Cloete, CEO of the business "inspirator" and entrepreneurial ecosystem LevelUp. The programme is underpinned by local consumer credit specialist RCS which supports LevelUp's commitment to "enable, facilitate and inspire" business development and innovation, primarily in the financial services and retail sectors.
Women and the holistic approach to business
Drawing on her experience in the upliftment and endorsement of women in business, Cloete asserts that women entrepreneurs tend to show a higher level of interest in harnessing the power of collaboration.
"Women leaders are often more empathetic, and inclusive in their leadership approach. This has led to more diverse and inclusive workplaces, where team members feel valued and respected," she says.
Women leaders have also been found to be more supportive of social responsibility initiatives. These initiatives extend to global and national sustainability objectives and the need for transformation in business.
Drawing strength from support
In Cloete's opinion, the greatest challenge in South Africa's business arena involves building and sustaining the growth of cohesive support systems for businesswomen. This, she argues, must include "better access to funding for women entrepreneurs and more willingness to support the business ideas and innovations of women pioneers. Equality of access and opportunity should be the main focal point for all industry players both within the global business community and in South Africa."
Cloete also noted that she was initially surprised by research indicating that female entrepreneurs are far more likely to be solo acts and not have a business partner. "On reflection, this does make sense as women are mostly motivated to start a business by a need for autonomy and flexibility – as shown by a State of Business survey conducted by Guidant in the US," says Cloete. "But entrepreneurship is a massively lonely journey for anyone, so my advice would be - don't go it alone. Find a community to plug into, or a coach or mentor, someone that can be a thinking partner."
Every year, the Level Up programme builds a cohort of local businesses which could benefit from support in the form of mentorship, business advice, practical tools or access to the broader South African business network. In light of International Women's Day, three women entrepreneurs who are part of LevelUp community were asked for their input on gender-related issues in the field of business.
Talent management through the lens of gender
Offering her three-point strategy for how to attract and retain skilled women is Lebo Mofolo, Co-Founder of learning and development agency, My Future Work. In the first place, she says, companies wanting to build more robust teams need to focus on fostering company cultures that are conducive to diversity and inclusion.
Secondly, the creation and promotion of equal opportunities within the workplace, including those that relate to career growth and professional development, is an essential component of a more representative workforce.
And finally, Mofolo says, companies need to understand and apply a gender lens to their internal policies and procedures. With an increasing number of women being called on to fulfil many different roles, flexible working hours and arrangements will assist women in sustaining a balance between building their careers, supporting their families and taking care of other daily responsibilities.
The power of unique perspective
Sasha Knott, CEO of online career management portal, Job Crystal, stresses that the gender dimension of employee relations is an important factor to consider.
In the past, differences in terms of skill sets, mindset, belief systems and work ethic may have been seen as a weakness. But, as Knott explains, there is great strength to be found in diversity, with women and men bringing different, complementary perspectives to problem-solving and innovation in the workplace.
In her view: "Success is defined differently in women-led businesses. In male-dominated sectors, we often see the 'achieve, no matter what' approach being the main driver behind progress. In women-led organisations, success is often defined as something to be achieved together and for the sake of the 'greater good' or the bigger, long-term goal. Women look beyond revenue when defining success – they therefore bring an invaluable and unique point of view to the world of business."
Women inspiring women
A future in which gender equity is the norm, depends on the emergence of role-models and champions of industry, adds Layla Hassiem, Creative Director at The Pencil Box, a design studio she runs out of Cape Town and Dubai.
In her opinion, there's nothing more impactful for aspiring women entrepreneurs than seeing other women succeed despite the prevailing systemic challenges.
"When you look up to someone who has walked a path that is similar to yours and is driven by a similar passion," she says, "it gives you the strength needed to keep going. South African women are coming together more and more to create opportunities and show each other support. When we work together, we create powerful synergies. Women leaders inspire us. Their voices teach us, help us grow and show us every day that realising our goals as women in business, is indeed possible," concludes Hassiem.
MORE ARTICLES ABOUT
RELATED ARTICLES