Learning from the go-getters: Four entrepreneurs share their success stories
22 AUGUST 2023
The COVID-19 pandemic has caused worldwide economic hardship, making it even more difficult for entrepreneurs to launch their own start-ups. However, that hasn't stopped determined individuals from finding success in their businesses they have started during the pandemic. During this article, we will explore how they went about it, and how you could do the very same.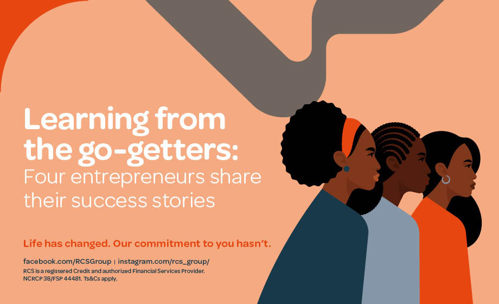 Growth in the South African small business sector:
The small business sector increased its turnover from R7 trillion to R10,5 trillion whilst also showing an overall annual growth rate of 7%. Furthermore, medium-sized businesses saw an increase in turnover of 8,4% per annum, whilst large size businesses increased by 5,4%. As a result, entrepreneurs have been inspired to launch their own start-ups in the hopes of being a part of the continued growth and producing a profitable business.
With this in mind, here are even more reasons to consider becoming an entrepreneur:
There are more growth opportunities – Consider the example of viewing the digital space as a virtual area that has potentially unlimited cyber real estate. This results in opportunities in abundance for those who embrace the space. This allows for the potential entrepreneurs to create and launch their own start-up that is completely based on their individual size preferences, there are no limits!
The potential to earn your own income – One of the biggest upsides to starting your own business is that you reap what you sow. This means that the more time and effort you put into developing and improving your business, the higher the potential amounts of income it will produce, instead of relying on a set salary whilst working a full-time job.
Larger target market size – Having your own business allows for the opportunity to gain access to a diverse range of customers – especially if you have an online presence with which to reach them. The online world has seen a large increase in business-related activity as a result of the pandemic, with customers seeking goods and services they can access online instead of being in-store.
Greater flexibility in your own life – Having your own business means that you can set your own working hours, as opposed to working set hours in a full-time occupation. As a result of the increased adoption of online automation, the opportunity for you to go on a "working vacation" where you can take your laptop with you and still gain new clients with your online presence.
However, there are pros and cons that accompany most things in life, and starting your own business is no exception. It is vital to keep these pitfalls in mind before deciding to start your own business in South Africa:
Little to no funding – Across the board, entrepreneurs all over the world are struggling to attract investors or gather funding in general to support their businesses. However, some investors and financiers will provide you with opportunities for solutions to generate funds. It is critical for entrepreneurs to identify these individuals that align directly with their line of work as there is an element of common ground to discuss potential investment. Having a professional business plan in place is crucial in order to be considered by potential investors as it accurately showcases transparency with your business' information that will allow investors to make their decision.
Trouble finding clients and customers – There are a number of reasons why a new business would be unable to attract customers. These reasons may be unique to the industry in which you operate, which may include: a lack of market education, inaccurate lead sourcing & nurturing, being confused about your ideal customer profile and the list goes on.
Lack of guidance – One of the biggest issues for many entrepreneurs is not having a viable source in which to consult over business dealings. If they are not aware of their current position or direction, entrepreneurs and their businesses will have no idea about crucial aspects to support themselves such as their overall career trajectory and potential for company growth.
Lack of basic entrepreneurial training – The current skills gap in South Africa is one of the biggest issues entrepreneurs will face. This is a result of current skills being focused solely on traditional employment that do not require any marketing or business-related knowledge, rather more to educate a workforce to perform basic employment tasks instead of encouraging entrepreneurship. The future will no doubt be guided by the online world and with aspects such as AI increasing in prevalence in all aspects of business today, which will ultimately leave South Africa stuck in the past and limited overall growth and economic potential.
Below are the stories of four entrepreneurs who have made a success of their business started during the pandemic: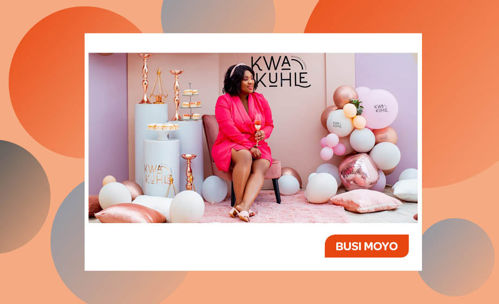 BUSI MOYO ON FOLLOWING HER PASSION DURING A PANDEMIC
Planning her own wedding ended up becoming the catalyst for 28-year-old Busi Moyo to start her own events planning business. Busi did not let the negative impacts of the pandemic get her down, saying that "When COVID-19 hit last year, I decided to use my spare time wisely and the fact that we were in lockdown and businesses were suffering did not discourage me, I knew this was what I wanted to do."
As her business continues to grow, Busi says she's still learning to differentiate between good and bad credit. While she was fortunate enough to fund her start-up through her own salary, she is considering applying for credit to further grow her business. Busi has learnt that as an entrepreneur, there are a few things she has to consider - "I am considering if the business will be able to pay back the credit without defaulting on payments; if the business will qualify for credit; how long the payment terms are and how it will impact the business in the long run."
A true testament to it never being too late (or early) to go after your dreams, Busi says she believes her success lies in having started her business during the pandemic. In fact, Busi continues to work on new projects set to launch next year for her bridal clients. "To be honest, I didn't even think that the business would survive longer than three months, but here we are!"
"I am considering if the business will be able to pay back the credit without defaulting on payments; if the business will qualify for credit; how long the payment terms are and how it will impact the business in the long run."
A true testament to it never being too late (or early) to go after your dreams, Busi says she believes her success lies in having started her business during the pandemic. In fact, Busi continues to work on new projects set to launch next year for her bridal clients. "To be honest, I didn't even think that the business would survive longer than three months, but here we are!"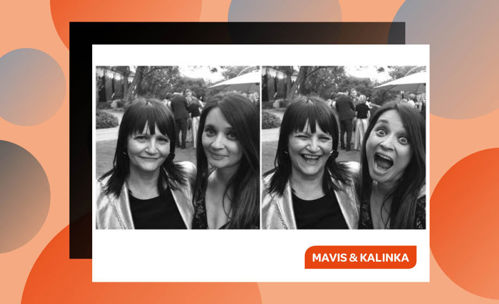 MAVIS AND KALINKA ON THEIR JOURNEY WITH MEIVEE
As the world continues to grapple with the COVID-19 pandemic, we've all come to appreciate each opportunity to celebrate life's special moments even more. "My mom Mavis and I started Meivee out of our love and passion for beautiful things. Our inspiration is thoughtful giving with simplicity and ease," says co-founder and director, Kalinka Cuff. "We put this love into carefully curating gift boxes and authentic items for every special occasion and momentous event."
The self-taught entrepreneurs started Meivee with limited capital and this has taught Kalinka the importance of keeping costs as low as possible, managing cash flow and avoiding unnecessary overheads and stress.
"This is a lesson that I have applied in my personal life, and I try to make sure that I don't live beyond my means and create unnecessary financial stress," explains Kalinka. "Quality and simplicity are core values that we strive for in the business, and I try to focus on these in my personal life, in terms of good health, wellness and maintaining quality in work-life balance."
This has however been a long journey for the mother-daughter power-duo. Adapting to the times, they have since expanded into wholesale, supplying national retailers and boutique stores with their locally manufactured ranges of jewellery and bath and body products. They have also recently moved their business out of their living room and into a studio and production space, with plans to increase their range of products, and they are currently developing several new ranges for leading retail groups.
KEITUMETSE HLANYANE FINDS OPPORTUNITIES IN A HARD-HIT SECTOR
The construction industry was one of many sectors to be hit hard by the impact of the coronavirus, with 259 118 jobs lost at the end of Q3 2020, according to BusinessWire.
Keitumetse Hlanyane continues to provide quality aluminium products to construction partners, however, creating five jobs on average depending on the nature and size of each project. How? Quality workmanship, great service and understanding the market are the cornerstones to his success over the past four years and during this challenging period.
With milestones such as providing all the aluminium for the reception building at South African Mint before COVID-19 hit, ECE Aluminium has had to adapt to a cash-strapped market, especially for small-scale companies like it. "With such a big investment as aluminium, no one can afford to invest R200 000 for their residential homes right now and there are fewer large construction projects as nothing's being built, leading to the bigger companies benefitting more than the smaller ones." As a result, adapting has become necessary and ECE Aluminium is set to continue to grow thanks to Keitumetse's ability to find opportunities such as merging his aluminium business with a contraction firm. This will give them the ability to bid for bigger businesses.
On what running his self-funded business has taught him about good and bad credit, he puts it simply: "Avoid any line of credit that doesn't actually generate any revenue or you're able to comfortably service." An RCS Store Cardholder who applied for the store card when he needed to build up a credit history, Keitumetse says he applies the same principle to managing his store card credit. "I was able to build a positive credit score and now I only use my RCS Store Card for necessities and when I know I can pay it back in full and on time," he says. With a positive credit score, Keitumetse now has the power to apply for credit for his personal needs or his business.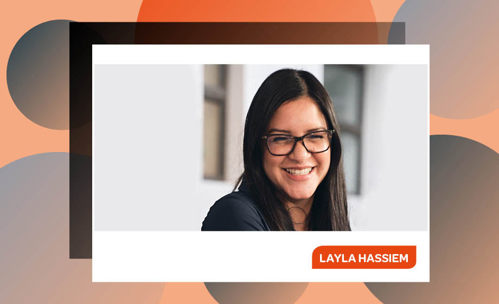 LAYLA HASSIEM ON GROWING THE SKILLS AND CONFIDENCE TO RUN A BUSINESS
Layla – founder of creative agency Pencil Box – is one of the RCS Level Up initiative beneficiaries which is a co-created Enterprise and Supplier Development initiative of RCS in partnership with the TSIBA Ignition Academy. Level Up empowered Layla with the skills and confidence to manage her business' finances, even as a creative. "Before joining the initiative, my biggest concern was managing the financial health of our business," says Layla. "Level Up gave me access to an amazing accounting course where I could learn the basics, as well as mentors who pushed us in the right direction. Investing in professional accounting services has proven to be a huge benefit, financially as well as managing my time so I can focus on running the business."
Don't delay – start today!
Despite the above-mentioned businesses having their own unique beginnings and circumstances, they all share one thing in common - the road to building a successful business is not an easy one to pursue. Expect to experience hardship, obstacles, detractors, and decisions—but with hard work, smart planning, and a great idea you believe in, you can get yourself on the road to success.
If you need financial help, you can apply for an RCS Loan from R2 000 up to R150 000 with interest from as low as just 15%.* Apply today and get a decision in seconds.
*Service and initiation fees apply.
MORE ARTICLES ABOUT
RELATED ARTICLES