How Does The South African Repo Rate Affect Your Loan?
11 AUGUST 2023
The repo rate may not be a common term you hear in everyday conversation. However, it affects many crucial financial aspects and lifestyle choices. Learn how the repo rate can influence your loans and finances.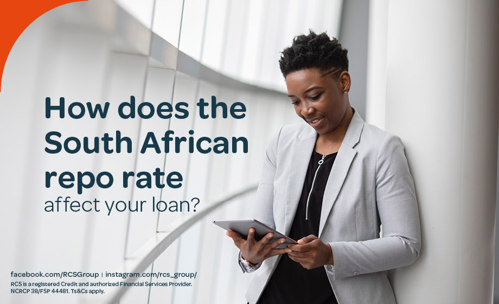 What is the repo rate?
The South African Reserve Bank (SARB) supplies money to banks for public lending. The repo rate is the interest rate that the SARB uses to lend this money to commercial banks, also known as the repurchase rate. The SARB regulates the interest rates that banks charge consumers, to keep tabs on bank lending and inflation. Banks make a profit from lending money by having an interest rate higher than the repo rate. This is how the increase in the repo rate can affect how much interest you will have on a loan.
The repo rate is currently 3.5% and had been cut in March 2020 by 1% due to the COVID-19 crisis. The SARB changes the repo rate to prevent inflation and to keep it between the 3% to 6% target range. The prime lending rate (from bank to consumer) is now at 8,75% from 9,75%.
How does the repo rate affect your loan?
A decrease in the repo rate means that the SARB will be able to lend more money to banks at a lower rate, which in turn means that the lending rates to consumers are also lower. The prime lending rate allows you to borrow more money from the bank if the repo rate has been lowered, giving you more buying power. If you already have a variable rate loan or bond, your current interest rate lowers. This means you can reduce your monthly repayments or continue paying what you already are so that you can pay off your debt faster. A downside to a decreased repo rate signifies a Rand more vulnerable to higher inflation.
Overall, a repo rate cut will allow you to save on your repayments and put away towards your monthly savings. For example on an R1 million home bond, you could save around R600 each month. Whereas an increase in the repo rate will mean an increase in inflation so that the demand for money will increase according to the money supplied by banks. Which then in turn should stabilize the economy.
How does the repo rate affect your other finances?
Repo rates affect property prices
Property prices rise as the repo rate rises. This is because you do not have the same buying power as a lower repo rate. Try looking for a house that falls within your means.
Repo rates affect your return on savings
Consequently, a higher repo rate means a higher savings return because interest rates rise. Put the money you save away into a savings account.
Repo rates affect your credit history and profile
For over-indebted consumers, higher lending rates can mean that your monthly repayments are harder to meet. Consider future possible rate increases or decreases in your budget.
Take advantage of a repo rate cut
A lower repo rate allows you to benefit from the extra disposable income that you should utilize differently. Start by paying off your debts faster; as you are already benefiting from a lower interest rate, use the savings to get rid of debts quicker. Pay higher-interest loans off first and once your debts are paid off, invest. An emergency fund is a much needed financial security plan that can be built up using a few months of extra savings. An emergency fund will also provide a safety net when unexpected costs arrive. Use the savings that you accumulate from a repo rate cut to get one step closer to your financial goals such as a new home, car, or going back to studying.
Understanding the repo rate and its effects will help you manage your finances more carefully, especially when it comes to taking out a loan. There are a lot of factors to consider when negotiating your loan. For example, whether it is a variable interest loan or fixed loan, which will determine if the repo rate changes will affect your loan. The current repo rate cut gives you the opportunity to approach 2021 with a more secure financial status, prepared for what lay ahead.
MORE ARTICLES ABOUT
RELATED ARTICLES