How to Pay off Loans Faster and Smarter
11 AUGUST 2023
With your New Year's financial resolutions still well underway, now's the perfect time to explore ways to pay off your debt faster and smarter.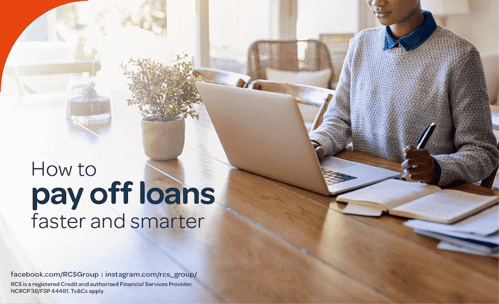 2020 was a challenging year and has reminded us of the importance of saving for rainy days and uncertain futures. With job losses still on the rise, paying back your creditors can prove difficult, leaving little to put away each month. Paying off your loans can alleviate the pressure, and what better time than now to start settling them faster and smarter?
Follow these tips to pay back loans faster and smarter:
Sign up for focus groups and get paid to have an opinion or take part in surveys for cash. Register with a legitimate company and have your say.
Investigate how you can turn your hobby or special skill set into an income source. From baking to dog walking, find a need in your community that you can service.
Become a consultant by harnessing your specialities. Consider doing these safely through online video platforms such as Zoom or Skype.
Learn what new skills are in demand.
LEARN MORE WAYS YOU CAN MANAGE YOUR FINANCES.
From creating a budget even in the toughest of times to understanding the value of a financial planner, we've got financial wellness tips to help you get back in control of your finances. Learn more through our financial wellness articles.
MORE ARTICLES ABOUT
RELATED ARTICLES