How to Make Extra Income Online and Offline
11 AUGUST 2023
A single income is simply not going to cut it. As long as you're able to put in the effort, here are several legitimate ways to earn additional cash.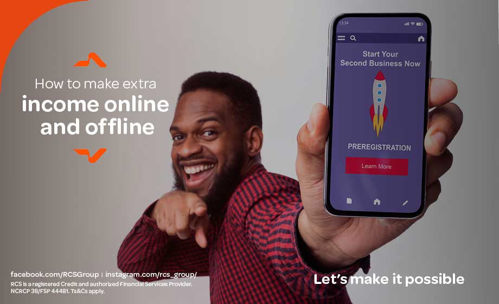 If you're feeling the pinch, you're not imagining it, prices of food and petrol are the highest they have been in decades. So we can all agree that a single income is simply not going to cut it. As long as you're able to put in the effort, here are several legitimate ways to earn additional cash. Even if you don't make much money from these alternatives, they may be enough to help you pay your credit card or buy petrol for your car.
Online side gigs
Use sites like Upwork, Fiverr, and Freelancer.com to earn money online by providing your services. A wide range of freelance tasks are available on these sites, including writing, programming, design, marketing, data entry, and virtual assistant services. Are you fluent in another language? Set up a website of your own in order to get more customers. You should always keep an eye on the current pricing for the type of work you do as a freelancer so you know whether or not your prices are fair.
Affiliate marketing
Joining an affiliate network might help you generate money if you have a lot of traffic to your blog. When a customer makes a purchase on the partner site, after clicking through from the affiliate's website, the affiliate is compensated.
Sell your creations
Are you good at making something? Candles, beads, pottery, and such? You can sell your creations on Facebook Marketplace or Gumtree.
Monetize your content
Your cooking videos (or whatever content you create) can be turned into money-making videos. Advertising revenue may be possible if your videos have a large following. Google AdSense is a service that allows advertisers to pay to promote their products and services around your content.
Offline side gigs
Airbnb
Renting your house as an Airbnb may be the ideal option for you if you don't spend much time at home or if you have an extra bedroom. Decide on your house rules, take some good pictures of your place, and make a timetable for when your house is ready for rent.
Pet Sitting
Pet sitting and dog walking are other methods to get extra money, particularly if you don't enjoy taking care of children.
Drive for Uber or Bolt
It's simple and flexible to make some extra money driving for an e-hailing if you have a new car and no criminal record. You have the freedom to choose your own hours, whether it's early in the morning, late in the evening, or on the weekends.
Sell your used clothes
It's easy to gain money by selling old clothes you don't use anymore. Start with consignment stores in your area for a quicker return.
Sell used electronics
Have an old iron, kettle, cellphone, speakers and such lying around? Go sell them at places like Cash Crusaders or Cash Converters.
Rent out your car
Know of someone coming to your city who will need to move around? Offer them a reduced rate to rent your car via the big renting companies.
Become a tutor
Become a private tutor and use your knowledge of maths, science, and languages, or help with exam preparation. Price varies depending on experience, knowledge, and what's in demand in the market. See what kinds of tutors are in demand around you.
Run errands for people
There are lots of tedious things people would rather not do themselves. Grocery shopping, standing in queues, picking up documents and delivering them, etc. Make an Ad and circulate it in your community to get started.
Ultimately it's about getting creative with the skills you have. Take stock and think creatively about how you can use what you have to make an extra income. Listen to what people say they like about you and see if there are ways to monetise that. All the best!
MORE ARTICLES ABOUT
RELATED ARTICLES