How To Report Financial Fraud
10 AUGUST 2023
With the increase in online financial fraud, protecting your money is a must. Read how to investigate financial fraud and how to respond if you are a victim.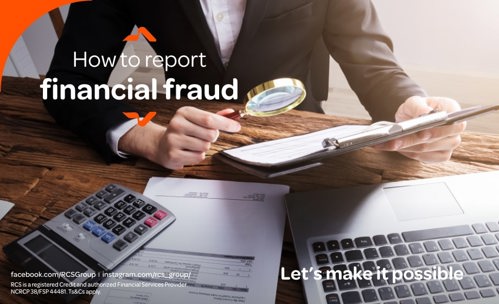 How to Report Financial Fraud
Fraud has existed as long as valuables have existed. The ability to conduct financial fraud has evolved in tandem with innovations by banking systems to protect our money. If you have fallen victim to a fraudulent SIM swap, had your card swiped illicitly, were the victim of a SIM phishing scam, or were deceived by someone you know, it's a very personal crime that leaves you confused as to how to react. Unfortunately, every year in South Africa, con artists relieve unwary victims of millions of rands.
According to the South African Banking Risk Information Centre, South Africans lost more than R1.5 billion in total to card and banking fraud in 2020 (SABRIC). The figure is probably much greater if you include other scams and victims who are too embarrassed to disclose it. Scammers are experts of deceit, misdirection, and plain lying to the point where they can persuade most victims into unintentionally aiding in their own loss. Experts argue that the problem doesn't lie with technology but rather in the human factor.
Here are ways in which a victim of fraud can respond:
Call your bank
As soon as you realise, call the fraud prevention number for your bank. The numbers are usually at the back of your card and easily accessible with a simple Google search. Your cards will be cancelled, which will stop future transactions. A feature to promptly suspend a card in the case of card loss or fraud is available in many banking apps. Remember this is time sensitive. For instance, you might be eligible to submit a reversal if you were the victim of credit card fraud, but you must do so within about 40 days.
Call the police
It's crucial to contact local authorities if a crime is being committed and you or someone else is at risk. The SAPS, commercial security providers, and even neighbourhood watch organisations may be able to help support your case later.
The Banking Association of South Africa advises that if you believe you are the victim of identity fraud, you must immediately get in touch with the appropriate agencies. The association advises contacting your bank, insurance provider, and any other companies you may do business with to alert them to any unusual activity. It's also crucial to put an instant hold on credit in your name if you suspect someone has stolen your identity or compromised your bank account. Contact South Africa's credit bureaus as soon as possible.
Ombudsman
Individual complaints regarding banking services and goods are handled by the independent Ombudsman for Banking Services (OBS). All of South Africa's reputable banks are members of the OBS, and as long as the dispute falls under the Ombudsman's purview, they will handle it and offer a judgement without charging the you any fees. There is no assurance that the outcome will be favourable to you, however, in some circumstances, banks could agree to a settlement before the dispute goes through the entire process. The process is largely influenced by the merits of the case, so if your bank won't bend, it's worth a try.
Change your passwords
To be secure, you should change the passwords for all of your online accounts, including your banking profile, social media, and email. If a scammer has access to your mobile device or personal information, they may be able to transfer money and make transactions.
If you've experienced identity theft, the South African Fraud Prevention Service (SAFPS) is an invaluable tool. For assistance with fraud prevention, fighting financial fraud and crime, and assistance if you have been the victim of identity theft, get in touch with the SAFPS on 011 867 2234.
MORE ARTICLES ABOUT
RELATED ARTICLES