How to use revolving credit
15 AUGUST 2023
Your RCS Store Card gives you access to revolving credit. Here's the smart way to use it.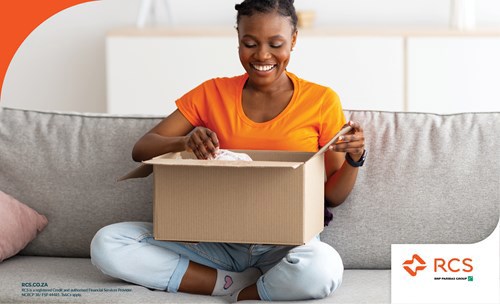 The magic of revolving credit
First of all, it's not magic. It's revolving credit… and technically, you're taking out a loan to buy those shoes. If you use it wisely, revolving credit can help you afford the things you want, giving you freedom to make purchases when you choose.
If you choose "straight" when you make a purchase, you are using your revolving credit facility – now you know. Revolving credit revolves or comes back again once you have paid back what you owe, you always have access to it, and this is why it is referred to as revolving credit. It means if you purchase an item on credit today, this amount comes off your total credit available.
Another important point is that the revolving credit facility on your RCS Store Card comes with up to 55 days interest-free. If you see something you want to buy today, you can buy it on credit (rather than using cash) and pay it off when you next get paid. You have 55 days from the purchase date where you won't be charged interest on that purchase, after that interest will be charged on that amount.
Revolving credit can be useful for financial emergencies, as you don't need to re-apply every time you utilise the credit. It also helps you build up a good credit score – especially if you use it for small purchases and pay your balance on time.
Use revolving credit smartly
The smart way to use revolving credit is to use it to transact conveniently and as an extension of your disposable income. Consider that 55-day interest-free period. It means that if you set yourself a budget for small purchases and spoils (like, say, that pair of shoes), you can buy them on credit using your RCS Store Card and pay them off before having to pay any interest.
That's a smart way to transact, because by paying the amount back within that 55-day interest-free period, you'll pay what's on the price tag – nothing more.
The not-so-smart way to use revolving credit is to use it for buying things you can't afford to pay for in the short term. For example, if instead of buying that R500 pair of shoes you buy a R5 000 dishwasher, you probably won't be able to pay back the full amount within that 55-day period. Thereafter, you'll have to pay interest. The interest on a larger ticket item will be a more significant amount, which may affect your ability to pay it back and get you into a bad debt cycle that could cause stress and impact your credit record.
Note: The smart way to buy larger ticket items like the dishwasher that you need for your new place, is to choose a budget repayment plan that suits you. That way you know how much you owe on the item each month and you can factor this into your monthly budget. Read this article about the smart way to use the budget repayment facility on your RCS Store Card.
So rather stick to your budget, and if you can afford to spend R500 a month on spoiling yourself, then go ahead and do it! Be smart with your RCS Store Card, and use the revolving credit it offers to as an extension of your disposable income. Your credit record, your bank balance (and your feet!) will thank you for it.
MORE ARTICLES ABOUT
RELATED ARTICLES