5 minutes with entrepreneur Layla Hassiem
25 AUGUST 2023
There's a lot of value in the learnings of an entrepreneur. After all, they had the courage to start a business from scratch, go out on their own, and take on all the risks associated with launching a new venture.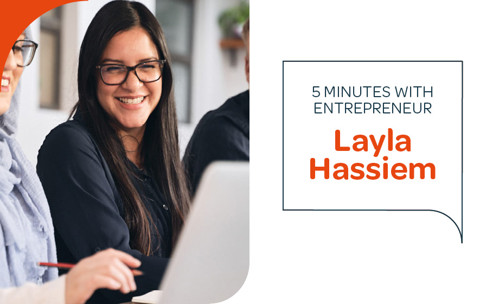 1. What inspired you to become an entrepreneur?
After a decade of working in the magazine-publishing and advertising industries, and having two young kids at home, I knew something had to give. Like most moms, I wanted to spend more time with my little ones, and this is when I began to visualise The Pencil Box. I loved my job, but corporate wasn't for me anymore. Working on various magazines, I was always inspired by the stories of other entrepreneurs. My love of design, wanting to make a difference and having creative (and literal) freedom inspired me to take a leap of faith. We've been in business for eight years now and remain inspired by other start-ups and entrepreneurs who use our services.
2. How did you identify a gap in the market?
It was during an economic slump, when most companies were reducing their budgets and retrenching staff – so the demand for freelance or external suppliers was high. There was also a gap for a more cost-effective solution for design and visual communication. Large design agencies were (and still are) very expensive. More start-up businesses that were launching (without big budgets) needed the type of services I was offering too.
3. What are some financial lessons you've learnt?
It's important to keep track of your business's financial health on a monthly basis
For the first few years I relied on my accountant to give me figures at the end of the financial year, and then hoped for the best. I quickly realised that you need to put systems in place to record all financial data so that you can budget and plan properly in advance.
Use accounting software
In the beginning, it was possible to do things manually, without assistance, but as we grew we needed a more automated system. Software like Xero is perfect for a small business, with many features that will help you save time and keep all your data in one place.
Learn to understand numbers
As a creative, I found it very challenging to work with numbers and the financial management of the business. My advice is to get professional help and constantly find ways to learn and upskill in areas that you're not familiar with. Google and YouTube are part of our team.
4. How did you fund the start of your business?
I freelanced after hours while working my nine-to-five job, which allowed me to save extra cash and build a client base.
5. What advice would you share with someone who wants to start a business?
Make sure it's something that you're passionate about, something that you will enjoy. There's a quote by Arthur Ashe that rings true to many entrepreneurs: "Start where you are. Use what you have. Do what you can." It takes hard work and long hours, so remember to take care of yourself too.
6. How did RCS's Level Up programme help your business?
I absolutely loved meeting like-minded entrepreneurs and mentors, and learning about their journeys and their challenges. I realised that we all face similar obstacles as business owners and need guidance regardless of what stage our business is in. The Level Up programme came with a wealth of information and business mentorship; it was an eye-opening experience that changed the way I manage my business and lead my team.
It's given me a better understanding and ability to structure the management and financial health of The Pencil Box and improve our systems and procedures. Not only did it help my business, it helped me personally. Level Up instilled the confidence that I needed as a business owner and leader, along with the business experiences of others and an amazing community of entrepreneurs and inspirational speakers. It has been a wonderful journey over the past 12 months; I am truly grateful to have been a part of it.
Thinking of starting your own business or launching a side hustle? Get your dream off the ground with an RCS Personal Loan of up to R250 000 with interest from as little as 15%, and you, too, can become your own boss!
Keep up with Layla and The Pencil Box.
MORE ARTICLES ABOUT
RELATED ARTICLES