Practice social distancing with our online partners
14 AUGUST 2023
Staying home during the national lockdown is the responsible thing to do, and that means there's no better time than now to make use of our online shopping retailer partners.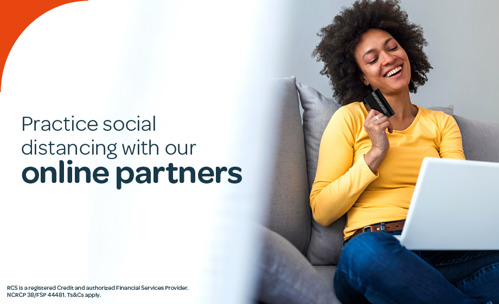 With the national lockdown well-aimed at flattening the curve of COVID-19 infection rates in the country well underway, leaving your home is only permitted to seek medical attention, buy food, medical supplies and collect social grants. But worry not; you can make use of a variety of online retail partners within the RCS Shopping Network to do your shopping from the comfort and safety of your home*.
These are the retailers you can purchase from online using your RCS Store Card:
Shop designer clothing with up to 70% off for a limited time from the biggest South African online shopping society. Pay with your RCS Store card if you are a registered RCS Self-Service customer.
Getting inspired to embark on some DIY home remodelling? CTM's wide variety of quality floor, kitchen, wall, lights and bathroom products is your answer. Visit their website for a step-by-step guide to shopping online.
From appliances to home décor and food, Game helps you save money with discounted prices on a number of brands with delivery to any South African residential or business address, excluding areas listed on their website. Game's Standard delivery period is 3-5 working days while on occasion, deliveries may take longer due to delays.
Not only is Makro known for being one of SA's biggest warehouse chains, but they also offer online delivery, in-store pickups, pick-up lockers and delivery services as alternative ways to shop with them. Shop food, the latest electronics, houseware, camping and outdoor equipment.
Known as the home of DIY, home improvement and building materials, Builders is your go-to for building materials to outdoor living products and more, which you can shop online, collect in-store or have delivered to you.
SWIPE FOR GROCERY ESSENTIALS IN-STORE
For your grocery essentials, don't forget you can use your RCS Store Card in-store at retailers such as Checkers and Pick n Pay. Simply swipe your card and get up to 55 days interest-free** on each purchase.
Remember, you can manage your RCS account from the safety and comfort of your home. Simply use the free RCS Customer App, online self-service, use the USSD Self-service or Ask Ricci, the RCS Chatbot.
*Please note that these partner retailers will deliver your items to you after the national lockdown.
**Service and initiation fees apply.
Visit the COVID-19 Corona Virus South African Resource Portal for official government-issued information on COVID-19. The Corona Virus (COVID-19) 24-hour hotline number is: 0800 029 999.
MORE ARTICLES ABOUT
RELATED ARTICLES