The Benefits of Online Transactions in SA
24 AUGUST 2023
With the convenience of being able to shop from the comfort of your own home, and comparing prices and products at the click of a button, it's no wonder that more South Africans are choosing to buy online.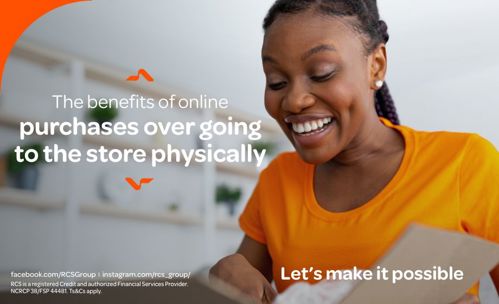 A recent survey conducted by World Wide Worx with Mastercard, titled "Online Retail in South Africa 2022" noted that the South African online retail market reached R55bn in 2022 - a 35% year-on-year increase. And predictions suggest that eCommerce is likely to grow by a further 25% in 2023, which could see online retail exceed 5% of total retail in the country for the first time.
Convenience
Perhaps the most obvious benefit of online shopping is the convenience it offers. With the ability to shop from anywhere, at any time, online purchases allow consumers to save valuable time and petrol. Rather than having to physically go to the store, consumers can simply log on to their computer or mobile device and make their purchases in a matter of minutes. This is especially beneficial for those who are busy or have limited mobility.
Online shopping also eliminates the need to deal with crowds, parking and long queues. This is especially true during busy shopping periods, such as Christmas or Black Friday, when physical stores can become extremely crowded and chaotic.
Price Comparison and Variety
Another significant benefit of online shopping is the ability to compare prices and products. With the click of a button, consumers can easily compare prices and products from different retailers, ensuring that they get the best deal possible. This is especially useful for big-ticket items such as electronics or appliances. In addition, online shopping also offers a wider variety of products than physical stores. Many online retailers stock items that are not available in physical stores, and consumers can also shop from international retailers, giving them access to an even wider range of products.
Delivery and Returns
Online shopping also offers the added benefit of delivery and returns. Many online retailers offer free delivery, saving consumers the cost and effort of having to physically transport their purchases. In addition, many retailers also offer easy returns, allowing consumers to return items that are not suitable without having to go through the hassle of physically returning them to the store.
Security
Online shopping can offer increased security for consumers. Many online retailers use secure payment systems, such as PayPal or credit card encryption, to protect the consumer's personal and financial information. Online retailers are also required to comply with the Protection of Personal Information Act (POPI) in South Africa, which regulates how personal information is collected, used, and protected. With the rise of infrastructural challenges South Africans face (heavy traffic, high fuel costs and limited electricity supply) it becomes increasingly likely that a culture of online purchasing is here to stay.
Drawbacks
However, it's important to note that online shopping is not without some drawbacks. One of the main disadvantages is the lack of tactile interaction with products. Consumers are not able to physically touch, feel, or try on products before purchasing, which can lead to disappointment. To mitigate this, many online retailers offer detailed product descriptions, images, and even videos to give consumers a better idea of what they are buying.
Another disadvantage of online shopping is the potential for delays or complications with deliveries. While many retailers offer fast and reliable delivery, there is still a chance that parcels may be delayed or lost in transit. Depending on the purchase, however, consumers can opt for tracked delivery, or choose a reliable retailer with a good reputation for delivery. Finally, online shopping can also be less environmentally friendly than physical shopping. Online retailers often require large amounts of packaging to protect products during transit, which can lead to more waste and pollution. Where possible, consumers can opt for retailers that use sustainable packaging - which is becoming increasingly in demand.
In short, online shopping offers a range of benefits over physical shopping, including convenience, price comparison, variety, delivery and returns, and security. While it does have its drawbacks, such as lack of physical interaction and potential for delays, these can be mitigated by being a well-informed consumer and being conscious of the environmental impact. With the continued growth of eCommerce in South Africa, it is important for retailers to adapt to this trend.
MORE ARTICLES ABOUT
RELATED ARTICLES