Stay home shopping guide
23 AUGUST 2023
Trying to stay home but also need to eat? It's time to learn which foods last and limit your trips to the shop.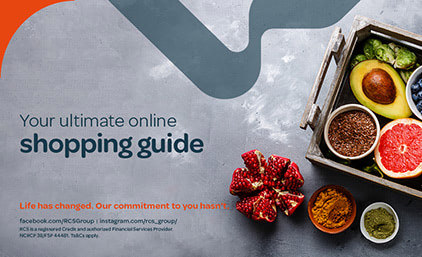 Now, save yourself time, wasted food and the potential risk of COVID-19 with this ultimate grocery list for all the staples you need in your cupboards, fridge and freezer. The items are versatile for many different recipes and can be shopped online at our grocery partner retailers such as Pick n Pay, Makro and Game. Shopping safely has never been this easy. Use your RCS Store Card to shop online at a variety of stores. Print or save the list onto your phone so you can have it handy on your next shopping trip or have it ready while doing your online shopping. If you find it useful, why not share it with a friend?
Safe online shopping tips
Shop online with your RCS Store Card
Don't want to share your bank details? Well, you're not limited to using your debit or credit card when shopping online. Your RCS Store Card can be used at selected online retailers with peace of mind.
Compare prices with ease
Gone are the days of spending the whole day moving from shop to shop to compare prices on products. There are a range of price comparison sites such as Price Check to help you do just that with a quick search.
Take advantage of free shipping
Before checking out, check what the delivery fees are so you can get more bang for your buck. Some online retailers also offer 'click-and-collect' options which are often cheaper than door-to-door delivery.
Look out for the 'special offer' on your grocery store's app
If you're using a grocery app, take advantage of their 'special offer' section for great deals on essentials and more. Many online retailers offer discounts for first-time shoppers through special codes – check your email, the website or app once you've created your account or profile to not miss out. You can also download the RCS Mobile App to view great deals.
Set yourself a budget before you get clicking
We all know how expensive food has become, by tracking your household food expenses you can dertermine your daily, weekly and montlhy food budget and stick to it. Read more on Budget Building Tips. Apart from shopping from the comfort of your home, many retailers have exclusive online offers or products not offered instore. A great benefit to this is saving time on sifting through rows and rows of products when you can simply do a search on their website or app.
Always check the return policy
Shopping online is all about convenience, but you have to read the fine print. Make sure you understand the online retailer's return policy to avoid any hidden or additional costs on items you may want to return or exchange.
Remember, avoid too much isolation
While shopping online has its perks, including doing it in your slippers and favourite sweat pants, it's important to remember that too much isolation is not good for our minds. Remember to get outside as much as you can safely; see family and friends while still following COVID-19 regulations and stay active.
Use apps to manage your account and stick to your budget set
The RCS Mobile App will help you to manage your account anywhere, anytime. You can check your balance, view statements and make account repayments, all with a click of a button. Download the RCS mobile app to manage your account on the go.

BE PREPARED FOR YOUR NEXT GROCERY SHOP
Shop for the essentials you need with your RCS Store Card at Checkers, Pick n Pay, or Shoprite and get up to 55 days interest-free* on your purchase.
Don't forget that while you're at any of these stores, or at a Makro or Game, you can also pay your RCS Account. Simply keep your EasyPay number at hand at the till point. Alternatively, you can also pay and manage your account via the self-service portal or the free RCS App from anywhere. So, where else can you use your RCS Store Card?
*Service and initiation fees apply.
MORE ARTICLES ABOUT
RELATED ARTICLES