What does self-employment change in your loan application?
11 AUGUST 2023
Self-employment and the loan application process differs from a salaried individuals' loan application process. Banks generally grant loans to lower risk people who have a stable income every month. Although it may seem more challenging, there are some factors that will help guide you through the loan process if you are self-employed.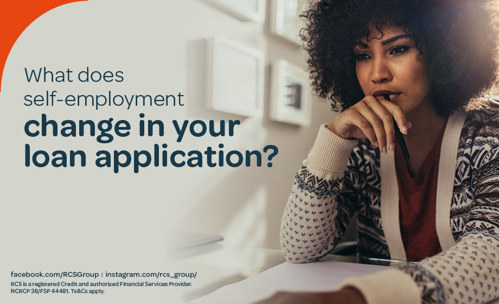 What is self-employment
Working for yourself or as a freelancer constitutes self-employment. Starting your own business or using your skills to work as a freelancer can come with many rewards; you make your own hours and get to be your own boss. However, there are a few risks as well; income is variable, and managing the businesses' finances can be difficult. You may find yourself needing a loan to help support the growth of your business and to do so you will need to prepare your financial profile.
Where can you apply for a personal loan?
Some major banks have strict regulations when going through an application for a personal loan and even so from self-employed individuals. Before applying to a bank or lender for a loan, make sure to find out if they are able to accommodate you with a flexible loan or what their process would be.
How to apply for a loan as a self-employed person
One of the most important things to remember when applying for a loan is to reassure your lender that your income is stable and reliable enough to be able to make the monthly repayments. This involves getting together many documents and a longer process than the usual loan process. When applying for a loan, take into account the following;
1. Separate your personal and business expenses
Having all your expenses under one account may allow you to save on tax but can be seen as "inflating income" by lenders. To avoid this, be sure to clearly define your business taxable drawing so that the bank is able to see the net profit, after your expenses in line with your earnings. This allows your lender to prove affordability when you apply for a loan.
2. Gather your documents
It helps to know what documents you need before you begin applying. These are:
Your latest IT34
A letter from an auditor proving your income and profit
A personal statement of personal income and expenses (6 months)
Personal and business bank statements
All appropriate ID documents
3. Ensure your finances are up-to-date
Banks are looking for signs of a regular consistent income in the months before you begin applying as well as enough disposable income or savings to be able to afford the monthly repayments.
4. Check your credit score
Do a credit check on your own finances and make sure that you have been paying what you owe on time. This is important to create and maintain a good credit score, so do not be afraid to open small credit accounts and make purchases.
5. Start saving
Save when you are able to, to minimise the pressure of initiation fees or to be able to pay your loan in a large deposit, which will make applying and avoiding debt much easier.
6. Know the type of loan you are applying for
Home loans, business loans, and personal loans have different loan processes and requirements. Find out what the prerequisites are of your particular loan and prepare in advance for what you might need, eg. tax certificates, shareholder affidavits, etc.
Prepare yourself for the process
In many circumstances, being self-employed needs extra financial guidance and support. Keep in mind that in the future you may find yourself in a position where you need a personal loan, manage your finances beforehand so that the process does not seem too intimidating. There's no such thing as too much protection for your future, for example, Income Protection Plans or insurance. Plan ahead for possibilities, positive or negative.
As the loan process for a self-employed person can be more complex, it can take longer for lenders to reach a decision as they need to conduct a more thorough financial review. Remember, build a stable income and have patience with the process.
MORE ARTICLES ABOUT
RELATED ARTICLES