How to maintain a great credit score
11 AUGUST 2023
Maintaining a healthy credit score has many benefits, including giving you access to more credit when you need it the most.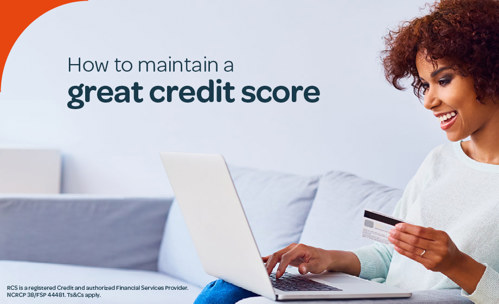 If you haven't kept track of your credit score, there's no better time to start than now. From accessing credit at great interest rates and more, your credit score is one of your most important life tools. Maintaining it requires you to form smart financial habits such as not missing any account payments, like your RCS account. Luckily, you can do so from anywhere at any time via the RCS Mobile App, online self-service, or pay through an EFT or Debit Order.
HERE ARE 5 SIMPLE TIPS TO MAINTAINING A GREAT CREDIT SCORE
LEARN MORE ABOUT MANAGING YOUR RCS ACCOUNT
Managing all your accounts and making the necessary payments consistently is a surefire way to safeguarding your credit score. Learn more about managing your RCS account.
MORE ARTICLES ABOUT
RELATED ARTICLES