Why is FICA important?
10 AUGUST 2023
The multitude of financial terms and acronyms can be difficult to understand and keep track of. However, your financial literacy is important to keep up to date. To help you improve your financial knowledge, read on to learn about why FICA is an important financial term to know.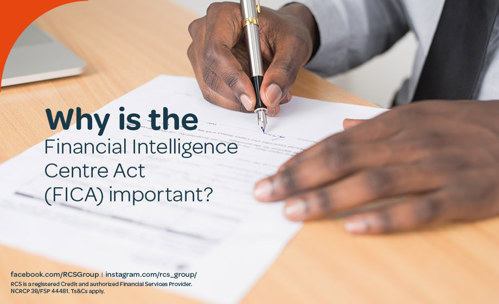 Firstly, what is FICA?
FICA stands for the Financial Intelligence Centre Act, an Act implemented in July 2001 that aims to protect the money of South Africans and prevent financial crimes like money laundering and tax evasion. It was formed and put into action to protect financial institutions and to ensure that they know the customers that use their services. FICA requires these institutions to keep paper trails of transactions and to notify authorities if they are aware of any illegal financial activities.
Financial institutions are required to collect client identification, ensure record-keeping, and report relevant information to the FIC (Financial Intelligence Centre). The FIC is responsible for receiving the financial data, the analysis and the dissemination of this data to the relevant authorities for further action. They have the power to look into financial crimes, fight money laundering, and terror financing. This is done through monitoring and guiding accountable institutions on their FICA compliance and how they are performing in accordance with it.
Are you FICA compliant?
It is important to ensure that you are FICA compliant in order to receive the protection it gives. To do this to take your South African ID and your proof of residence (less than three months old) to your bank. Be sure to update your information if and when it changes. This simple action allows you to benefit from FICA and ensure that your financial institution sees minimal risk in transacting with you.
As a business owner, your business has to also be FICA compliant. Depending on your business type the FICA requirements can differ, however, the decision-makers of the company will need to be compliant, regardless. Check with your bank if you are FICA compliant and if you need to register your business. Accountable institutions include;
The business of making available a gambling activity in respect of which a license is required.
Foreign exchange.
The business of lending money against the security of securities.
A practitioner who practices as defined in section 1 of the Attorneys Act 53 of 1979.
These entities have to report to the FIC of any unusual or suspicious transactions, for example; evasions of tax imposed by SARS or transactions that seem to have no lawful purpose.
How to register for FICA
Registration for FICA is a simple and easy process, as it is only done electronically through the goAML registration system. You are required to register within the first 90 days your business operates. Not registering for FICA is an offence and can lead to imprisonment or a fine, so educate yourself on your FICA compliance to avoid this. The process is free to do and is easy to follow on the FIC website with guidelines and involves filling out registration forms for submission online. For more information or need help to register your business, call the FIC on +27 12 641 6000.
The benefits of implementing FICA
FICA and the FIC do not only protect financial institutions from losses or risk but also provides some security to national financial security interventions. These benefits include;
A more transparent and stable financial system attracting foreign investments - By avoiding an unstable and corrupt financial system prone to money laundering and market disparities.
The capabilities to fight terrorism and trace terrorist money - The money used by terrorists for finance attacks can be traced to prevent further illegal activities.
Meeting international obligations to avoid the risk of sanctions - The international community endorses financial securities.
Avoid creating an economy perfect for criminals - Countries with weaker financial systems provide an environment that criminals are unafraid to indulge in illegal financial activity.
Financial institutions are responsible for keeping our money safe, so it's important for them to be protected as well. Being FICA compliant ensures that these institutions are aware of who they are transacting with and can track money involved in laundering etc. Contact your bank to find out your compliance and visit the goAML website to begin your FICA registration.
MORE ARTICLES ABOUT
RELATED ARTICLES