The 101 on studying online during social distancing
23 AUGUST 2023
With certificates and degrees, in anything from accounting to advertising, you're spoilt for choice when it comes to studying online while practicing social distancing.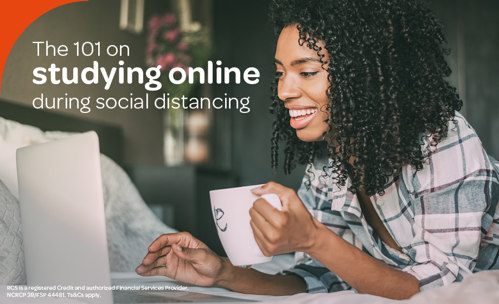 You may have been considering taking an online course or upskilling yourself during the national lockdown. Then taking up an online course may be just for you! It is important to point out that studying online is not "the easy option" however. It requires dedication if you're going to finish a course with a good result. But with video calls and digital discussion forums, well-designed online courses can be just as engaging, interactive and supportive as attending classes at university. The bonus? They're totally flexible, much more affordable, and with a good internet connection, you can get access to the study material wherever you are.
WHAT'S SO GREAT ABOUT STUDYING ONLINE?
As we mentioned, studying online is flexible so it's ideal while practising social distancing. If you're not sure what career path to take, you can study something useful without committing hundreds of thousands of rands to a three-year degree. For example, you can get your feet wet with a graphic design short course, or learn essential writing skills through the Business Writing course at SA Writers College.
WHAT SHOULD YOU STUDY?
Well, that depends on a million things. But there are some career paths that are well suited to online studying like psychology, design, finance, law, communications and all kinds of business management, including starting your own small business. Did you know that some of the richest people in the world under 30 are entrepreneurs? In keeping with the online theme, digital marketing, public relations and social media marketing courses are more relevant than ever. Plus, you can't go wrong with computer sciences – everyone needs an IT guy, right? Check out GetSmarter and INTEC College if you fancy any of these.
WHERE CAN YOU STUDY ONLINE?
Online education is becoming increasingly popular, so there are a lot of places offering courses in similar fields. Choosing where to study is a personal preference so you'll need to look at what is covered in the course, the price and the schedule. Then check the accreditation of the institution so that you know your hard work will actually mean something at the end. As the final deciding factor, check out what the student support is like. Are questions answered quickly? Are there useful discussion forums?
Feeling excited? Here are some more online schools to visit:
MORE ARTICLES ABOUT
RELATED ARTICLES