10 Ways to Save on Your Wedding
22 AUGUST 2023
Don't panic about how you're going to pay for the special day. Here are 10 clever ways to cut the wedding costs and still celebrate your union in style.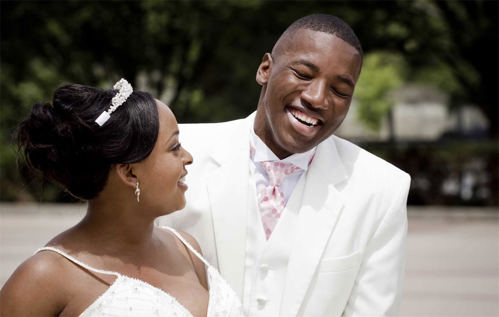 From the flowers to the food, the photographer to the venue, planning a wedding can be overwhelming. With so many things to consider, you may find yourself saying "yes" to stuff you don't want, need or even know existed.
Everything starts with a budget.
Ease the cost by applying for an RCS Loan to ensure you don't live off baked beans until the big day. From there, decide on your priorities and do your research. Here are some clever ways to save on your wedding.
Clever ways to save on your wedding
Trim down the guest list to people you both know and actually want in your wedding pictures. If you haven't spoken to them in a year and aren't likely to stay in touch, scratch them off the list. Paying per head for food is a sure fire way to make you realise how much you like someone.
Embrace the off-season. The beauty of living in South Africa is that we tend to have great weather all year round. Yet getting married in wedding season (September – December) can increase your costs by as much as 15%. Even opting for a Friday or Sunday will save you money. Dare to be different and have a winter wedding. Your bank account will thank you.
Find a venue that gives you value. Some venues may seem expensive but offer a lot in return while cheaper, simpler venues might mean you have to organise a lot on your own. Ask about waiters, bar services, food , music and lights and work out what is cheaper in the long run. See the potential in community and church halls, restaurants and even a friend's lavish garden, which can all be beautiful.
Consider hiring, borrowing or buying a second-hand wedding dress, which can be just as lovely as a brand new one. Make your mark with delicate accessories from Accessorize or American Swiss. Determined to wear something new? Bride&co have gorgeous and affordable ranges you can buy with your RCS Card and sell after your big day, sometimes for as much as 75% of the original price.
Plan your menu carefully. A lunch or even breakfast sitting is cheaper than dinner, while a buffet isn't always the most affordable way to go. Investigate culinary schools nearby, who may be able to cater your wedding for less and go for foods that are in season.
Keep the drinks list short and steer clear of a top-shelf liquor bar. Instead serve beer, wine and just enough champagne for a toast or two. You could also serve a signature cocktail for guests to sip on. Some venues may let you bring your own wine which you can buy in bulk and save. Order wine online at Checkers, sometimes at cost. And raid their Odd Bin selection for famous brands at a fraction of the price.
Save money on a wedding cake by going a non-traditional route. Homemade cupcakes served on a stand are eye-catching and popular. Many modern couples are putting their own twist on a cheese cake, serving a stack of real cheeses and crackers before and after the main meals as a quirky alternative. Pay a visit to Checker's Cheese World and be inspired.
Make your own table centrepieces, using seasonal and local blooms. Reserve exotic flowers and more expensive flowers for your bouquet and special arrangements only. Hire vases or buy them in bulk from Makro.
Shop around for package deals on photography and video that offer value for money. To save costs, you might want to consider the services of a student photographer. Just be sure to ask for portfolios and references. For additional photos, let your guests do the work. Place disposable or instant photo cameras, available from Makro, on each table and encourage them to get snapping.
Send e-vites and create your own website. Sites like Wix.com let you choose, customise and publish your own site for free. On there you can put a map to the venue, time, date, a link to your registry and an email for RSVPs. For old school guests make your own invites with brightly coloured paper from The Crazy Store.
Need a little help financing your wedding? Apply for an RCS Loan today and start your wedding planning today!
MORE ARTICLES ABOUT
RELATED ARTICLES