4 Cost-effective wedding menu ideas
24 AUGUST 2023
Feeding your wedding guests shouldn't be a scary part of your budget. Here are some great ways to keep costs down.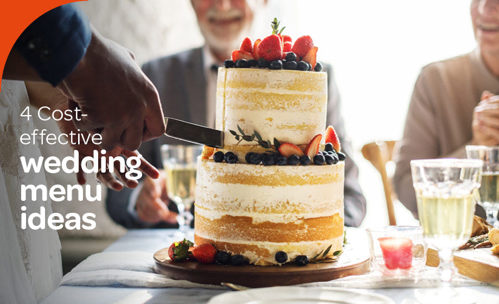 When you do the maths for your wedding budget, you'll see that up to 50% of it can easily end up being spent on food and serving the meals. That's a lot of money on something that really isn't the focus of the day. That's why it's always best to do your research on your wedding meal and price things out fully before you make a choice on anything else.
When you're busy with your budget, and you're ready to make some decisions, think about an RCS Personal Loan. You can get up to R250 000 in your bank account and interest from as low as 15%* to help you get to "I do".
* Service and initiation fees apply.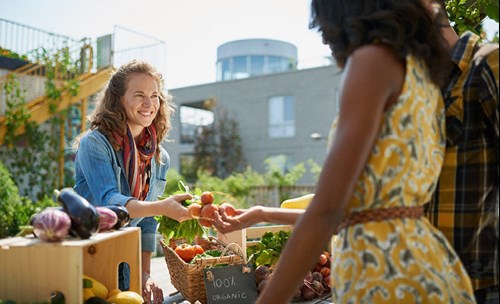 PLAY THE CATERER
Plenty of venues will provide catering for their functions. Before you hire a place, check whether or not they'd be open to you bringing in your own food. That could make a big impact on your budget.
If the venue doesn't provide catering, many brides-to-be move straight to hiring a caterer to sort out all of the food for them. This can be an expensive way to go. Instead, why don't you play the caterer yourself? You can shop around to find the most cost-effective meal options and ensure they are delivered and laid out for your guests on the day.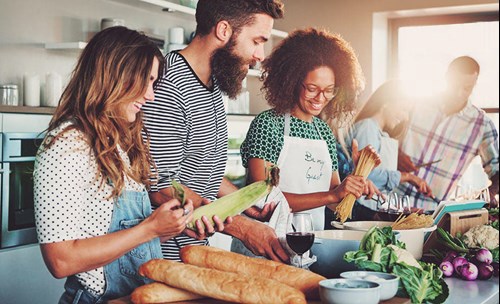 MAKE YOUR OWN WEDDING FOOD
Generally speaking, the cost of cooking a meal yourself is about half of what it would cost to get someone to make it for you. On the one hand, this means that you are then responsible for buying the ingredients, prepping everything and actually doing the cooking. On the other hand, you are saving a lot of money.
Making your own wedding food can also be a great bonding moment for you and your family or wedding party. Have a get-together the day before where everyone who can help comes over. You can play music, share stories – turn it into a fun, celebratory day.
Pro tip: When doing your budget for this option, it's important to factor in the cost of hiring cutlery, crockery and what you need for serving.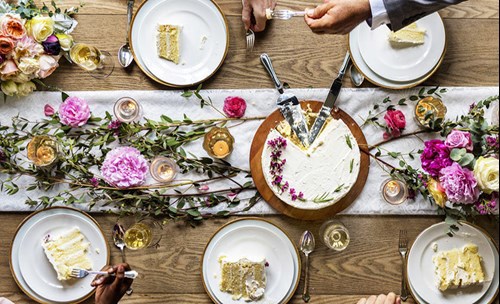 HAVE YOUR WEDDING CAKE AS DESSERT
There is a big trend at the moment to offer wedding guests three or four different dessert options, on top of the actual wedding cake. Too often, the cake gets one slice cut out of it by the couple on the happy day. Then, they're eating cake for months to come because no one else has a slice after filling up on dessert.
Instead, make your wedding cake the dessert for the day. You can have three different layers in your cake so you can cater to everyone's tastes. Alternatively, have a small cake that's for the tradition of cutting as a couple and then sheet cakes that are nicely decorated for everyone else. This will be much cheaper than one large wedding cake.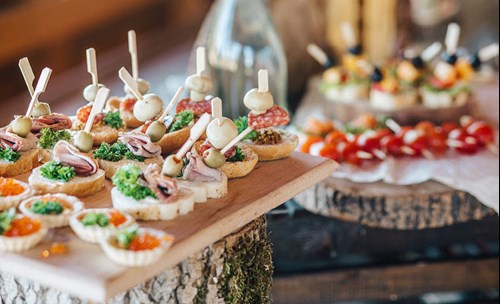 GO FOR FINGER FOODS
We're not talking about your old-school crudités or blocks of cheese on a stick. Things like mini quiches, sliders or rice paper rolls look amazing, taste great and will fill your guests up.
Passing plates of finger foods around as guests mingle will also decrease the amount you actually need to serve because no one is focusing on eating. Sure, you'll have to pay for waiters and for platters to serve the food on, but there's minimal clean-up afterwards.
Or you can try a grazing table. It's like a modern version of a buffet that's full of bite-sized snacks that people can pick up and eat whenever they're feeling peckish. You can even do away with the need for knives, forks, and plates for everyone with this option.
DON'T STRESS ABOUT YOUR WEDDING FOOD
The key is to plan ahead and to do research on your options. Once you have facts and figures in front of you, it's easy to keep costs down on your food while still giving your guests a great experience. And remember, RCS is here to help with an RCS Personal Loan. The application process is quick and paperless and the money will be in your account within 24 hours of approval.
MORE ARTICLES ABOUT
RELATED ARTICLES