A budget-friendly family meal
25 AUGUST 2023
A delicious main course and a yummy dessert – for the whole family and all for under R400.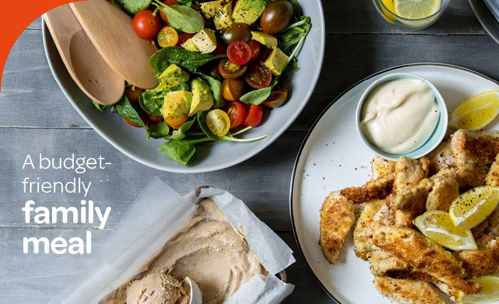 Simply feeding your family can be a little scary when you look at the price of everything these days. That's why we put our thinking caps on and found two great recipes to help you give your family a delicious, healthy supper without breaking the bank.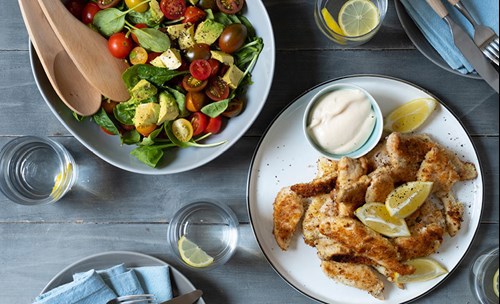 COCONUT-CRUSTED CHICKEN AND A SALAD
This is a simple, quick meal that suits a wide range of dietary requirements. It's also incredibly healthy.
Ingredients:
For the coconut-crusted chicken:
½ cup coconut, shredded unsweetened – R7.50
4 skinless chicken breasts, sliced lengthwise – R69.60
2 tbsp olive oil – R0.35
3 eggs – R12.50
Salt and pepper to taste – roughly R0.86
For the salad:
700g cherry tomatoes – R36
2 avocados – R34
250g baby spinach – R11.50
1 tsp olive oil – R0.14
Salt and pepper to taste – R0.86
To make:
Break the eggs into a shallow bowl and whisk them until mixed. In another bowl, add your coconut flakes, salt, and pepper and mix up. Dip the chicken cutlets into the egg and then into the coconut flakes. Ensure all sides of the chicken pieces are covered and place them on a plate.
Using a large frying pan, heat the oil on medium-high heat. Fry the chicken pieces for approximately 3-5 minutes per side and drain on a paper towel.
For the tomato salad, cut the tomatoes in half and place in a salad bowl, along with the baby spinach. Cut the avocado into blocks and add to the tomato mixture. Sprinkle with olive oil, salt, and pepper and lightly mix through the salad. Serve immediately.
Serves 4.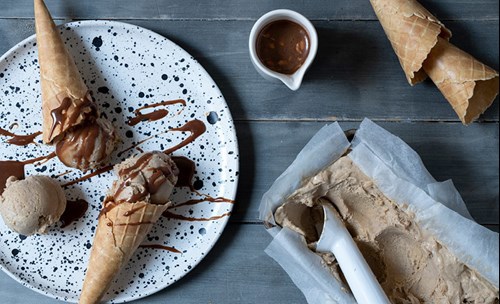 BANANA PEANUT BUTTER ICE CREAM WITH BAR ONE SAUCE
The best part about this dessert is that you can make it long in advance and keep it in the freezer for whenever you want a treat. It's also super easy to make.
Ingredients:
For the ice cream:
6 large, ripe bananas – R14.99
6 tbsp peanut butter – R 18.75
Pinch of cinnamon – R0.01
Pinch of salt – R0.01
For the Bar One sauce:
2 large Bar Ones, roughly chopped – R25.98
100ml cream – R6.80
To make:
Cut the bananas into small chunks and freeze until solid, at least 1-2 hours but overnight is better. Transfer the bananas into a very strong blender and blend until smooth and creamy. This will take a few minutes as you will need to scrape down the sides of the blender every few minutes. Stop when you see a thick, creamy soft-serve mixture in the blender.
Once the mixture is smooth, add the peanut butter (sugar and salt-free for the ultimate healthy option), cinnamon and salt. Pulse the blender several times for 2-3 seconds to mix the rest of the ingredients in. Serve immediately or freeze for later use.
NOTE: If you freeze the mixture you will lose some of the delicious velvety texture, but you can always re-blend the frozen mixture to create that soft-serve texture again.
To make the Bar One sauce, heat the cream to boiling point in a saucepan. Remove from the heat and add the chopped Bar Ones. Stir the mixture until the chocolate is completely melted. You can put the sauce back on the heat for 30 seconds if the cream cools down too much. Just be careful not to heat the mixture too much as it can burn quickly. Serve immediately with your ice cream.
Serves 4.
GET THE INGREDIENTS AND GET COOKING
Can you believe that all of that costs less than R400? It really is amazing how a great dinner for the whole family doesn't have to cost a fortune. The best part is, you can use your RCS Card to get all of the ingredients when you shop at Checkers, Pick n Pay and Shoprite. That's up to 55 days interest-free on all your purchases and access to cash whenever you need it. Apply for your RCS Card today!
*Prices per ingredient are an estimate based on items priced from retailers within the RCS Shopping Network in first quarter 2019.
MORE ARTICLES ABOUT
RELATED ARTICLES