Brilliant bathroom upgrades on a budget
24 AUGUST 2023
Check out these smart and stylish ideas for remodeling your bathroom.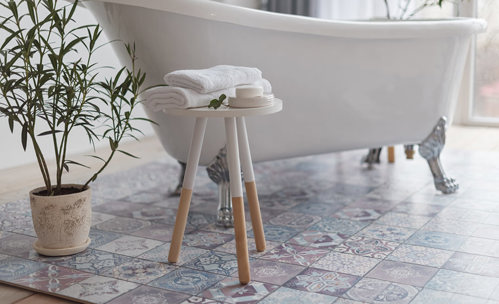 Updating or upgrading your bathroom is one of the home improvement projects that's most likely to add value to your house. But, perhaps more importantly, it's also guaranteed to increase your enjoyment of your home. A beautiful bathroom is a sanctuary where you can wash away the cares of the day.
And, even if you're on a budget, there are some inexpensive and easy ways to dramatically boost your bathroom bliss. Browse these brilliant bathroom ideas, then apply for an RCS Personal Loan to help you get the look. The fast, paperless application process means you could be granted a cash loan of up to R150 000 to make it happen now.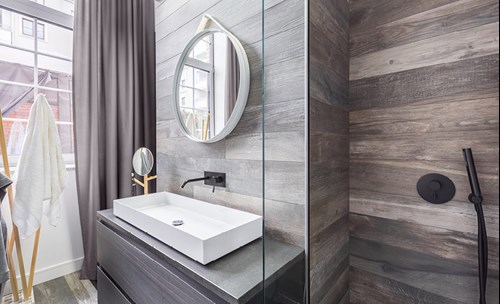 MAGNIFICENT MIRRORS
Since mirrors are a must in the bathroom, it makes sense to turn them into a feature. Plus, they instantly add light and space to any room, especially small rooms. For a modern, minimalist look, use a large rectangular mirror with a simple frame and hang it horizontally, or get some circle mirrors that are all the rage at the moment. Create a more whimsical look by grouping different sizes and shapes together for an unusual display. Simply adding a border or a stencil to an existing mirror can also take your bathroom from plain to fabulous in a flash.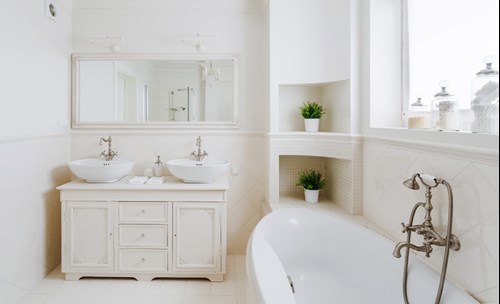 VINTAGE VANITY
One of the biggest bathroom trends right now is using old dressers or nightstands as the vanity for your bathroom basin. Luckily, it's a trend that budget DIYers can pull off with ease. Buy an inexpensive antique-looking dresser or nightstand, or repurpose one you already own. There are lots of online tutorials available that will show you how to fit the basin and taps with just a few basic tools and skills. If you're not too handy with power tools, a professional will get the job done for you in a flash.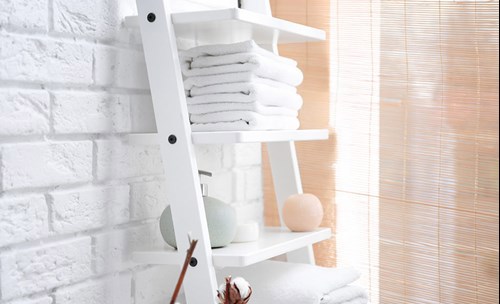 STYLISH STORAGE
Bathroom storage can be a struggle, but even boring bathroom essentials like toilet paper and towels can look good if you display them correctly. Paint an old storage cabinet or hang floating shelves and fill them with stylish baskets. Try decanting plastic-tubbed toiletries into pretty glass bottles and jars, and find a few accessories in bright colours to add interest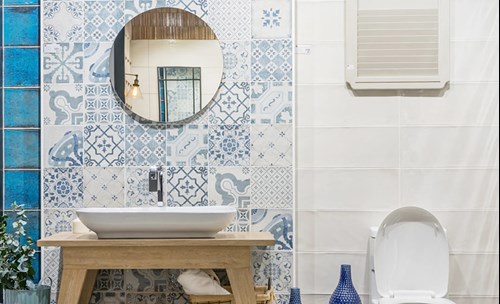 WALLS THAT WOW
Since most bathrooms are comparatively compact, your best chance to make a statement in a small space is by increasing the oomph of its walls. Try out a bold, rich paint colour, a funky tiling job, or splurge on a splash of dramatic wallpaper.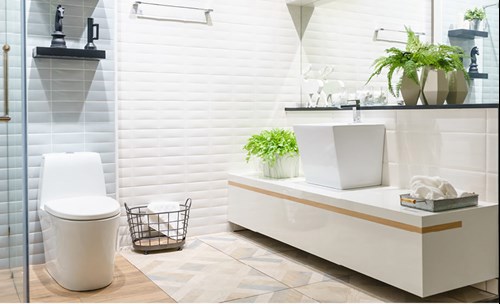 TRY A TILE RUG
Expensive tiles can instantly blow your bathroom budget. But, if you've got your heart set on pricey stone mosaic or some hand-painted porcelain, consider creating a tile rug. Lay just one or two square metres of your artistic tiles and use cheaper, plain tiles in a co-ordinating colour around them.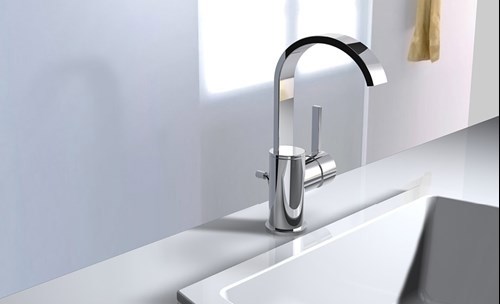 GO GREEN
Replacing the fixtures and fittings in your bathroom can not only modernise its look, but can also help you conserve water. And, by saving water, low-flow toilets, taps and showerheads will save you money too. Plus, water-saving fixtures and fittings usually cost the same – and sometimes less – than conventional ones, so you won't have to spend more to save more. Read more about waterwise upgrades for your home here.
APPLY FOR AN RCS PERSONAL LOAN TODAY
Ready to create your dream bathroom? Apply for an RCS Personal Loan from as little as R2 000, and you'll get a decision in seconds and cash in your account within 24 hours. Use it to transform your bathroom from bleh to beautiful, and choose a repayment plan that suits you.
MORE ARTICLES ABOUT
RELATED ARTICLES