Can I get a personal loan without a payslip?
10 AUGUST 2023
The loan application process can seem like a lot of work and documents. There are some alternatives to the normal loan application, however, some of these should not always be your first option. Learn about your alternative options in this article.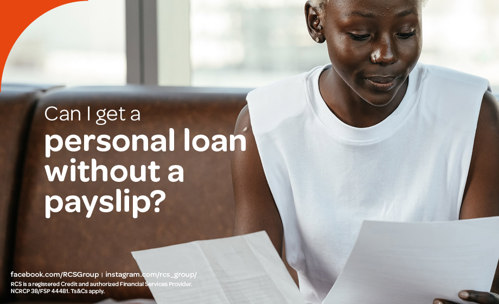 Is it possible to get a loan without payslips and bank statements?
To apply for a loan, you will need to meet certain requirements from lenders. You need to show that you have sufficient income to pay back the loan and meet monthly repayments. This is checked by reviewing your payslips or bank statements to determine your income revenue.
If you do not have a payslip or cannot for some reason apply with your bank statements, some loans can be granted without them. Some of them can be applied online or in person. This type of loan process can be more difficult and not all are trustworthy. This is because some lenders that accept loan applications without documents, tend to issue them to loan sharks.
How do I prove income if I don't get a payslip?
To be approved for a loan, you need to show your financial status through your income and what you have available to repay the debt. If you're unable to prove income with a payslip, you can do so through other documents that confirm how much income you are earning. These could be bank statements, pension fund/disability fund statements, a letter from your employer, etc.
Applying for a loan without a bank statement is also possible for people that earn salaries in cash to their hands. Some smaller lenders are willing to accept only your ID and salary slip. Otherwise, you might need to open a bank account to submit a one-month bank statement instead of 3 months, depending on your lender.
What to consider before taking out a loan while unemployed
When applying for a loan, lenders will look at your income, your debt-to-income ratio, and your credit history to determine your loan approval. If you're needing to apply for a loan while you're unemployed, there are few things that you need to consider. Collateral or secured loans are a type of loan that can be granted without needing to present documents that verify your income. These work by using an asset or collateral as security to take a loan out against. This asset is held by the lender until your pay the loan back. However, if you're unable to make these payments due to unemployment, you might risk losing the asset.
Make sure that you'll be able to pay back any loan before you apply when you're unemployed. Missing payments will cause a dip in your credit score and therefore affect your future chances of getting approved for a loan. Consider lowering your principal loan amount or taking on a co-signer.
Alternatives to loans
Before applying for a loan, assess what other alternatives you need to explore first. Understand the loan application process and impact on your credit report through increased financial education or speaking to a financial advisor. Credit cards could also be an option if you require a short-term loan that you are certain you can manage, keeping in mind that credit cards often have higher interest rates. Starting a side hustle or an additional income revenue stream will help you keep up with debt repayments if you're applying for a loan without a job.
An important thing to remember when it comes to borrowing money is to make sure you can repay, whether you can produce a payslip, bank statement or not.
MORE ARTICLES ABOUT
RELATED ARTICLES