Advice For A Painless Online Loan Application
11 AUGUST 2023
Online loan applications are an easy, seamless way to apply for a loan when you're fully prepared for them. With the right documents on hand and knowledge of steps to follow, getting approved for a loan has never been easier.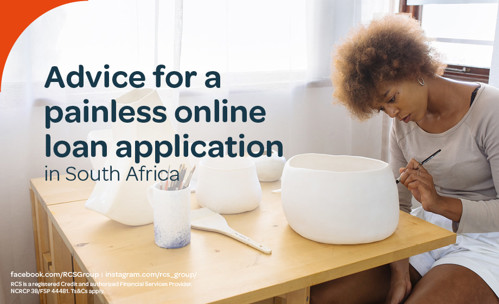 Before you apply
There are certain questions you need to ask yourself before you begin the loan application process. These questions will help you decide if you are ready to take a loan out at this moment in time and if you are prepared to handle the responsibility of it.
What do I need money for?
This will help you decide the type of loan you will need as well as the necessity of getting a loan. Avoid using a loan for unnecessary purchases.
How much money do I need?
Calculate how much interest you will be needing to pay off. This will help you determine how much you will need to have to be able to pay your loan back.
How much can I contribute to pay off my loan?
By pre-qualifying for a loan, you will be able to find out how much your monthly repayments would be. This will help you budget for each month in advance.
How long would I have to pay for?
A lot can happen over a few years. Find out how long your loan term would be by pre-qualifying.
Can I afford to take out the required loan?
and if you can afford to make an early payment through the cost of credit calculation.
Do I have insurance that covers my loan in case I lose my job?
Unemployment will affect your ability to pay back your loan as your income stream is jeopardized. An Income Protection Plan will pay off your loan when you are unable to.
Do I have insurance that covers my loan if I pass away?
To avoid leaving the burden of debt on your family when you pass, invest in a Personal Accident Plan.
Do I have insurance that covers my loan repayment in case I become disabled?
A Personal Accident Plan and Customer Protection Insurance will protect your income in case you suffer from illness or injury that leaves you disabled.
The South African Loan Process
The following steps occur in most South African lenders. Familiarize yourself with them so that you are prepared for the process ahead.
Pre-Qualification: The first step to assess the loan amount available to you and possible interest rates that will apply.
Qualification: You qualify after you have accepted the pre-qualified loan offer.
Application: The extensive loan application process involves a hard credit check, so make sure that your credit score is in good standing.
Loan Transfer: The loan amount that is agreed on is transferred to your account.
Repayment: Repayments are a set amount that you owe every month over your loan term. Always pay on time and even earlier.
Account Closure: After the loan has been paid back in full, the account is closed.
What do you need to apply for a loan?
Documents and requirements for loan applications rely on what type of loan you are applying for. Most loan applications will need the following requirements;
South African ID
Proof of income
Contact information
Bank statements
Tax returns
Proof of assets
Information around your existing credit and bank accounts
For home loans or car loans, you will need specific information around assets and insurance. When applying online, make sure you have all the necessary documents scanned in to make the process simpler. The RCS Loan process is fast and paperless, giving you a decision in seconds. With interest from as low as 15%, you can qualify for a cash loan from R2 000 up to R250 000 within 24 hours. Choose from between 12 to 60 months to repay your loans, along with a free monthly statement via email or SMS. RCS Customer Protection Insurance will help you protect your ability to repay your loan if you fall ill or are unable to pay.
To help steer your loan application towards a positive result, avoid applying while you have an insecure job status or if you are leaving secure employment. Keep a good credit score before you apply and start paying your loan back early when you are approved. This will keep your credit score high if you need to take out a loan in the future again. Keep this article as a guide to learn more about the loan application process when and as you need it. Read more on the basics of borrowing money in South Africa.
MORE ARTICLES ABOUT
RELATED ARTICLES