Financially Preparing For Your New Bundle Of Joy
17 AUGUST 2023
Heres how to budget and prepare for pregnancy expenses. Financially preparing for your bundle of joy with RCS.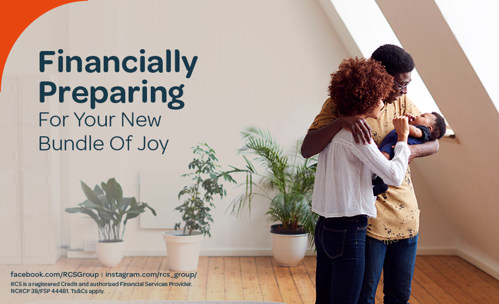 As new parents, preparing for a little family member can be a full-time job. It's important to ensure your financial security and budget when you're expecting, so that money won't be a worry if you are out of work.
Financial concerns for new parents
It is best to plan and account for certain financial tasks that come with having a child. This keeps you from being unprepared for something like expensive medical costs. Educate yourself on these responsibilities to minimise any extra stress during and after pregnancy.
Estimate your medical costs
Prenatal care, labour, and delivery medical costs can be very expensive, regardless if you have health insurance. It is important to estimate how much your pregnancy might cost, taking into account your medical aid. Start saving as soon as you can.
Opt for a pediatrician in your insurance network
Doctors that fall under your insurance company will cost significantly less than an out-of-network doctor. Check with your insurer before choosing a pediatrician.
Budget
Budgeting for a new baby should be detailed to ensure that no costs go forgotten. Babies and mothers need many things in the first few years, so be sure to budget for extra costs that are not covered by insurance. Read on for an extensive list of expenses you may need to budget for.
Prepare for the foreseeable future
A child is a long-term investment that has a lasting impact on your finances as another responsibility. Giving your new child the best possible future is important to parents. Prepare for this by keeping in mind future expenses such as health insurance, childcare, and education. By saving for larger milestones now, you can grow funds with interest and reduce the need for a loan.
Plan your maternity/paternity leave ahead of time
Calculate how much time off you will need and have, and whether you will be paid for it. This can signify how much you will be able to budget while you are expecting. Understand your company's leave policies and read further on how to claim your UIF Maternity benefits.
Expenses to expect
We know that having a baby is expensive, but what are the actual costs involved? Follows is a comprehensive list of costs during and after pregnancy.
Checkups: Doctors' visits for mothers are one of the main expenses during pregnancy and can be as often as every week. Ultrasounds, scans, and bloodwork can rack up large bills, so find out what your medical aid covers and if you will need to pay out of your pocket.
Dietary concerns: Your diet and health while pregnant are important to maintain as it affects the health of your child. Prenatal vitamins and specific dietary needs do not need to be expensive as they are available over the counter and at the supermarket.
Maternity wear: Stay comfortable in maternity clothes that do not need to break the bank. Borrow from family or friends and avoid unneeded brand names to save on money.
Baby equipment: Baby proofing the house, changing pads, storage, clothes, bottles, and a car seat are some baby items that will be needed. The best is not necessarily the most expensive, so avoid buying on credit.
Delivery expenses: Delivery procedures (natural/c-section) and hospital stays are expensive so check with your doctor and insurance provider to find out what falls in the bulk delivery cost.
How to claim UIF
South Africa offers mothers who work up to 4 months of paid maternity leave. Employers have the discretion to decide if maternity leave is paid or unpaid, partially or in full. If your employer has been paying UIF (Unemployment Insurance Fund) on your behalf, you can claim maternity leave benefits, provided you do not earn your full salary.
To claim UIF maternity benefits you need to be:
A mother who has made regular payments to the UIF every month
An employee on maternity leave
In possession of a valid South African ID book or a valid passport (for foreign nationals)
An applicant who has not claimed from the UIF in the last four years
Mothers can claim for 17 weeks of maternity leave, earning between 38% and 58% of their salary. The amount received depends on your salary amount, how long you have been working, and is generally capped at around R4 500 a month. For every 6 months of work, you will be entitled to 1 - 4 months of UIF maternity benefits. The application process can be a strenuous one, but if you are unable to do the process yourself, you can send someone else to the labour centre in your place.
Documents you will need for application are:
2 most recent payslips
A bank statement
Your ID or passport
A utility bill for proof of residence
Form U.I.2.8 completed by your bank
Form U.I.2.7 completed by your employment as a record of payment
Form U.I.19 completed by your employers.
Application form UI-2.3 completed by you and your doctor
A medical certificate or birth certificate
And a follow-up form U.I.4 submitted monthly
Budget for pregnancy expenses when you can by opening up a savings account which will help you keep track of what you are spending and help avoid unnecessary costs. Supplement your maternity leave by claiming your UIF benefits so that your monthly income does not suffer a loss. Money should be the last thing you're worried about when bringing new life into the world.
MORE ARTICLES ABOUT
RELATED ARTICLES