Five ways to help your child excel while home-schooling
24 AUGUST 2023
Here are five ways you help your child achieve good marks and enjoy their experience of studying at home during the national lockdown.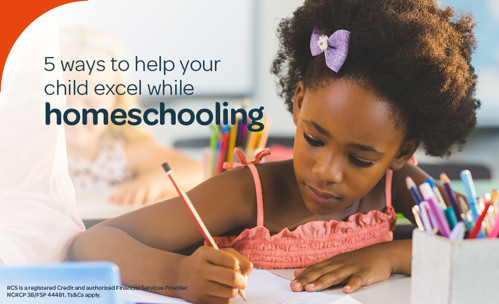 It may be a challenging time for some pupils and parents as children continue to study from home during the national lockdown aimed at curbing the spread of the Covid-19 pandemic. With that said, parents need a game plan. Whether your child is in Grade One or a few years in, here are a few simple tips to make the experience easier for all:
1. MAKE READING FUN
Reading with your child is probably the single most important thing you can do to help them succeed. When its storytime for the little ones, let them choose books, be expressive while reading their favourite story and ask them questions about the tales you read. If your older kids find reading boring, encourage them to try reading about something they're interested in like travel or their favourite sport. This will help them form a healthy relationship with reading.
2. BE ORGANISED
Draw up a realistic family routine that takes into consideration your child's timetable of subjects, daily tasks and assignments. This will help encourage your kids to be prepared for each day. Help them keep track of all their schoolwork by encouraging them to still use their school diary.
3. CREATE A STUDY SPACE
As the national lockdown has taken 'homework' to a new level, it's worth putting in the effort to create a special spot for them to study throughout the day. Start with the basics: a proper desk, a comfortable chair and some decent lighting.
4. LEAD BY EXAMPLE
By consistently showing a positive attitude and providing a peaceful, clean environment in which they can be productive, you can create a can-do spirit around learning. Following a morning routine, not letting the TV play in the background and setting defined snack and lunchtimes can also help ensure they remain disciplined and motivated. When it comes to meals, create healthy breakfasts and snacks that provide brainpower and energy using ingredients you can purchase with your RCS Store Card at retailers like Checkers, Shoprite and Pick n Pay.
5. EMBRACE THE DIGITAL AGE
The internet can certainly be distracting if its usage is not monitored correctly. It can however provide some valuable and affordable online learning resources. For more of these, have a look at these online study guides for your kids.
Remember, you can manage your RCS Store Card via the RCS Self-service portal right at home. From checking your balance to paying your account, it's as easy as a few finger taps. Visit the portal here or download the RCS Store Card App (available at selected app stores).
Visit the COVID-19 Corona Virus South African Resource Portal for official government-issued information on COVID-19. The Corona Virus (COVID-19) 24-hour hotline number is 0800 029 999.
MORE ARTICLES ABOUT
RELATED ARTICLES