How do you manage money during the holidays?
15 AUGUST 2023
When it comes to money, always start with a budget. Be realistic with your budget. We have some more tips to help save you money this holiday season.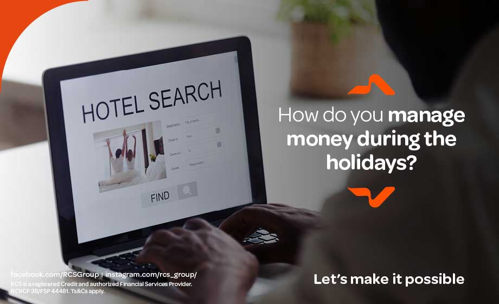 It's easy to overspend during the holidays. Whether it's Easter time or festive season, there's a push from marketers to do more and spend more. There is a parcel you promised your uncle, perhaps some gifts for granny, travel and all that food!
When it comes to money, always start with a budget. Be realistic with your budget.
Below are some ways you can manage your holiday spending.
Don't cut back on your savings efforts because of the increased costs of the holidays. Make a habit of saving the same amount every time you receive a salary. If you receive a bonus, instead of spending it all, save some of it in a high-interest savings account.
Make a list of everything you'll need to buy, from presents to food and stick to your budget. Make sure that you don't overlook the little things like donations, petrol for travel and wine for the host of the party, for example.
Create restrictions for yourself. For example, opt to use cash. And have the discipline to stop spending when the cash runs out.
During the holidays, marketers are pushing you in the direction of more spending. Don't fall into the trap of over buying. Stick to your budget and your shopping list.
Look out for savings and discounts for the items on your list. Spend a bit of time comparing prices and take advantage of deals.
Ordering online will save you time and money. Consider how much you want to spend and then look for things that meet your budget online. Also, look for places where you can get free delivery.
Sit-down meals may be delightful, but they can also be costly and stressful. Instead of spending hours in the kitchen, decorating, and going over budget, consider having finger foods.
Instead of expensive gifts, offer your services for free to those in need if you have the ability to do so. It's a wonderful thing to do something nice for someone, whether it's free haircuts, making drapes, or baked goodies.
There is nothing better than finding an item on sale, but this does not mean that you are getting a fantastic deal. Ensure that the shop hasn't raised prices beforehand simply to provide a discount now, which would bring the price right back where it was.
During the holidays, there are a lot of expensive concerts and events. However, there are several free performances to take advantage of as well. You may catch seasonal musicals and theatrical productions at a variety of locations in and around your neighbourhood. Take advantage of the freebies and spend time with your loved ones.
Preparation is key before going on a trip. Shopping around for hotels or BnBs, and other expenditures can save you money in the end. If you have a lot of time to spare, consider staying over a weekend or travelling a few days before or after the peak holiday season. You may get a better bargain and escape the massive crowds. Consider taking the ridiculous 5am flight instead of the 9am. If you go at unusual hours, you may be able to get cheaper discounts.
At the end of the day holiday time is family time. Figure out some creative ways the family can spend quality time together without breaking the bank. There is life to be lived after the holidays, make sure you have great memories to hold on to, not debt.
MORE ARTICLES ABOUT
RELATED ARTICLES