4 Must-know finance management tools
15 AUGUST 2023
Make your money work for you with these free tools to help you reduce debt and start saving.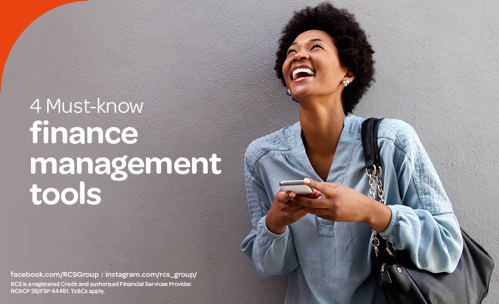 While most of us have an idea of our budget in our heads, unless you have hard data in front of you, there's a good chance you end each month wondering where your money went. Here are four savvy resources for taking control of your debt and day-to-day finances.
RCS APP
As an RCS Store Card customer, you can easily take control of your account with the RCS App. Download the app on your mobile device or access the platform by logging onto RCS self-service anywhere, anytime. With a few finger swipes or mouse clicks, you can check your available credit, access your statements, pay your account and purchase airtime and data.
MY TREASURY
This online tool helps you find the best return on your savings through investments. Input how much you are able to save and the platform returns with the best rates.
GOODBUDGET
This is a clever budgeting tool as it allows you to put cash for your expenses into virtual envelopes for things like groceries, rent and transport. Stop spending when the envelope is empty and don't pinch money from another envelope! You can sync your budget with your partner's device and you can track your debt payoff progress.
MONEYVERSITY
If all of this seems a bit overwhelming then head over to Moneyversity, where you can take part in free and fun video courses on everything money-related.
Learn about more ways to pay your RCS accounts.
MORE ARTICLES ABOUT
RELATED ARTICLES