The importance of using a personal budget
11 AUGUST 2023
At RCS, we believe it's important for our customers to be in control of their finances.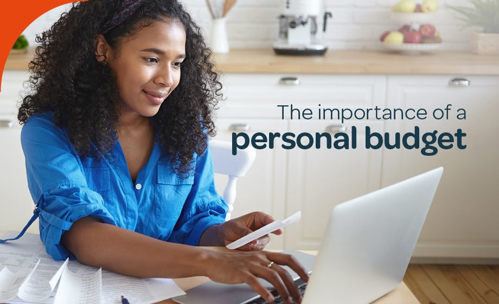 As a financial services provider, we enable people's lifestyles so that they can reach their ultimate goals. Giving helpful tips on managing their budget is part of that journey of making it possible.
IF YOU DON'T MEASURE IT, YOU CAN'T MANAGE IT
The first step in taking control of your personal financial wellness is to know how much money is coming in monthly and how much is being spent. The ideal is, of course, to ensure that you always have more income than expenses.
A personal or household budget is essentially a financial plan used for allocating income expected toward paying for monthly expenses and debts. Deciding how much to allocate per budget item is determined by spending history. A budget should also include an allocation for saving.
The foundation of budgeting is always the same; to track your money, not only in terms of knowing where it is going but also in planning how to better spend or save it.
BUDGETING GIVES YOU MONEY A PURPOSE
Over the long term, sticking to a budget should guarantee that your personal financial situation improves while also relieving the stress and anxiety that so often forms part of poor financial management. The most critical factor in ensuring that you stay motivated to stick to your budget is having a vision for your money. Yes, greater control over your money is important, but adding some life goals will be more motivating and inspiring. Such personal goals could include buying a house, going on an overseas holiday, or being able to pay for your children's tertiary education.
YOU CAN SPEND MORE WISELY
Once your budget is set, and you are tracking your regular expenditure, you're likely to start noticing spending patterns that are hurting you. The first step is to make a clear distinction between your wants and needs. Sure, we all want all kinds of things, but that can only happen after we've taken care of our needs.
A budget will allow you to clearly identify places or things that you are excessively spending money on. Typically, most of us are spending too much on fast food and eating out, entertainment, and impulse buying. Trimming down on these three types of spending should show immediate results.
LET RCS BE YOUR FINANCIAL WELLNESS PARTNER
Putting a budget in place is a very powerful first step in taking control of your money. However, it is just the first step. Be sure to check back to get more tips and ideas for helping you along your personal financial wellness journey. RCS is here to make it possible.
MORE ARTICLES ABOUT
RELATED ARTICLES