Six Smartphones for Under R600
24 AUGUST 2023
It used to be that the only people who could afford a smartphone were high-powered business executives. Now you can pick one up for less than R600. We've picked the best of the bunch.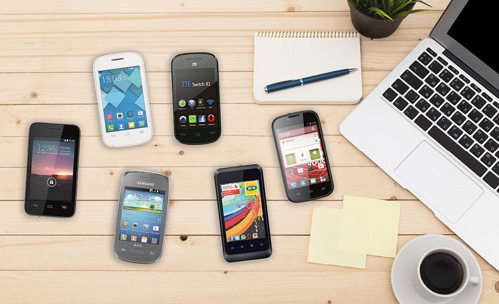 A smartphone is so much more than a cellphone. With Internet access, a camera and a media player, it's like a miniature personal computer. (Oh, and it makes calls too!) Now, a new generation of affordable, entry-level smartphones lets you put that technology in your pocket, with a once-off fee that won't break your budget.
Vodacom Smart Kicka VF685
The specs sheet says it has a dual-core 1GHz processor, 21Mbps HSDPA and 5.76Mbps HSUPA connectivity, plus a 3.5-inch touchscreen, Bluetooth 4.0 and Android 4.4. But behind all those numbers and letters is a handy little phone that lets you run basic apps like WhatsApp, YouTube and Facebook.
MTN Steppa 2 Black
Again, some numbers: the Android 4.3-powered Steppa 2 Black has a dual core 1.2GHz Qualcomm Snapdragon 200 processor with 512MB of RAM… which basically means you'll get pretty fast Internet access, indoor and outdoor navigation, and support for the latest WiFi and Bluetooth.
ZTE C310
Similar to the Vodacom Smart Kicka, this compact smartphone is also powered by Android, and lets you run apps like Gmail, Google Maps and Google Drive. You'll like the enhanced 3MP camera, along with no-frills WiFi, Bluetooth, GPS and an FM Radio.
Alcatel Pixi 2
Another small (3.5 inches, or 8.9cm), lightweight (100g) smartphone, the Alcatel Pixi 2 offers a 2MP camera and 512MV of RAM. Like most of the phones on this list, it doesn't support Instagram… but it does offer Internet access, FM Radio and a media player.
Samsung Galaxy Pocket Neo S5310
Samsung's entry-level model punches above its weight, with an 850MHz processor and Android 4.1.2 operating system. The size (5.8cm wide, 10.5cm high) means that the touchscreen isn't too small – and while it doesn't run every app in the Google Play Store, it does have many of the same features that other "smarter" Samsung smartphones offer.
ZTE SWITCH X1
The ZTE Switch X1 has the essentials, and not much else. But when the "essentials" include a VGA camera, an Android 2.3 operating system, Gmail and Internet access, who's complaining?
MAKE THE CALL!
The RCS Nework of over 21 000 stores includes South Africa's leading tech retailers. Swipe your RCS Card today and get the smartphone you want!
TIME FOR AN UPGRADE!
Enter our smartphone competition, and you could win a brand-new, top-of-the-range Samsung S7 smartphone!
MORE ARTICLES ABOUT
RELATED ARTICLES