So, where can you use your RCS Store Card?
31 AUGUST 2023
Find out more about store cards and how they work in this article. Plus find out how and RCS Store Card works - with answers to some frequently asked questions, and where you can shop with one.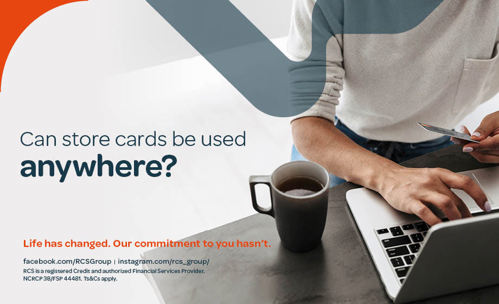 Store cards are a type of credit card that is issued by a particular store or chain that allows you to purchase products on credit. They are common for most retail chains and can offer rewards for the purchases you make. There are advantages and disadvantages when using a store card, for example, it can be a good starter credit card to begin building up your credit history with small purchases if used responsibly. Most store cards can only be used for one specific store, however, with RCS's Store Card, you get access to South Africa's largest independent shopping network.
Apply for an RCS Store Card today and get up to 55 days interest-free  and shop at over 30 000 stores.
Where can the RCS Store Card be used?
The RCS Store Card can be used at any one of the over 30 000 stores in our Shopping Network. Just lookout for the RCS logo to see where the RCS Store Card can be accepted. Visit our shopping network for brands from beauty to petrol. Our categories include;
We have retailers for all your vehicle repairs, parts, and needs. Autoquip, Autozone, Battery Centre, HiQ and Tiger Wheel & Tyre are just some of the brands under our network.
Beauty
Fashion retailers are one of the most common stores to use a store card and we have all the major brands in our network; including Clicks, Edgars and Foschini.
Fashion
Get your fashion fix when you use your RCS Store card at stores like H&M, Mr Price, Legit, Edgars, Sportscene, Keedo and more. 
DIY
Whether you're doing home improvements or looking to buy new hardware, visit Builders Warehouse, Build It, or Essential Hardware for all your requirements.
Groceries
Get your monthly groceries at Checkers, Shoprite, Pick n Pay, and more. And yes, you can use your RCS Store Card at Game!
Petrol
Fill up your tank at Engen and Shell using your RCS Store Card.
How to get the RCS Store Card and how much does it cost?
To qualify you must;
Be 18 years and older
Have a South African ID book or Driver's License
Provide proof of income documentation
Be employed and earn R1,000 or more per month
Apply online or in-store and once you have qualified, collect your card at the nearest store. Based on the individual assessment of your income, a monthly service fee will be charged to manage your account along with interest (in accordance with NCA regulations). You will also be charged a once-off initiation fee.
Good to know about RCS Store Cards
How much credit can you get?
Depending on your individual situation, you can be granted credit from R750 to R50,000.
How do you qualify or not?
As we are a registered credit and an authorized financial services provider and fully committed to responsible lending, RCS is governed by the National Credit Act in assessing whether we can provide you with credit. We assess your credit score as well as your income and expenses. RCS determines whether you can be granted credit based on this information.
How and where do you pay your account?
The monthly statement you receive will show your balance and amount due. You can pay at selected stores, by debit order, via EFT, or online via our Self-Service portal. To pay via debit order, complete the debit order section in the application form or contact us on 0861 SAY RCS (0861 729 727).
What if you can't pay your monthly instalment?
Don't hesitate to call us on the number above and we will work with you to find a solution that works.
Easy ways to manage your RCS Account 
RCS APP - View your latest statements, pay your account, check your balance, view deals, update personal details. Downlaod the RCS app from your app store.
ON-LINE SELF-SERVICE - Visit our website and register for Self-Service. Pay your account, check your available credit, download your latest statement, and update your email address through our online portal.
PAY VIA EFT - Make payments using our banking details below.
Bank Beneficiary: RCS Card
Bank: Standard Bank
Account Number: 061 234 745
Reference: Your 19-digit RCS Account Number
DEBIT ORDER - Set up a debit order by calling us on 0861 729 727. You can also dial *120*727*card number# to request information on your RCS account.
Visit our website to learn more.
MORE ARTICLES ABOUT
RELATED ARTICLES