Smart vs bad credit: five questions to ask yourself
15 AUGUST 2023
Whether you're looking to further your education, or splurge on a designer bag, these are the five questions you need to ask yourself before applying for a loan.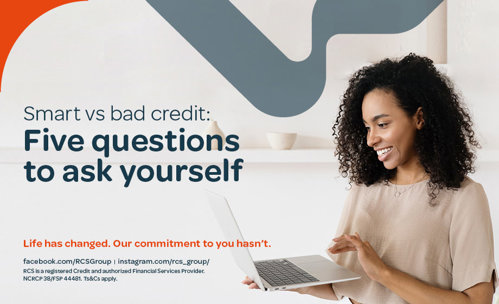 Budgets are tight, income streams are shrinking and jobs are becoming increasingly scarce with the country's unemployment rate now at an all-time high of 32.6% as of the first quarter of 2021. These are just a few of the reasons why it is important to think carefully before incurring any kind of debt. When considering whether or not to apply for an RCS Loan from R2 000 to R150 000, you may want to ask yourself a few questions to understand the difference between good and bad debt, and your ability to comfortably service it.
So, what's good debt? This is any form of credit that will have a long-term positive impact on your life or that of your family's without compromising your current financial standing. This, for example, can be investing in your child's higher education. Having a goal in mind that will have a positive return in your quality of life or growing your business is one way to look at good debt.
In turn, bad debt can take the form of credit you take out to purchase things you do not need, that quickly depreciate in value, or applying for credit without being in a position to make your monthly repayments on time and in full. This can have a long-term negative impact on not only your finances, but it will also impact your credit score. This may ultimately affect your affordability profile when approaching lenders in the future.
Here's what to ask yourself to determine whether that credit facility ­– be it a loan, credit card or store card – is the right fit for you.
Am I in a position to comfortably pay back my debt each month in full, taking into consideration that interest rates may also rise?
Is the item or service I want to take out credit for a need or want, and will it improve the quality of my life in the long term?
Am I protected should I no longer be in a position to repay my debt?
Have I shopped around for the best interest rate and repayment terms before taking credit from a particular lender?
Can I not set up a budget and timeline to save up to buy the item or service I want instead of taking up debt which will cost me more in interest?
RCS IS ALL ABOUT RESPONSIBLE LENDING
As a registered financial services provider, with competitive loan interest rates of up to 15%* and flexible repayment terms of up to 60 months, RCS has processes that protect you as a customer. This is why it is important to provide honest and accurate personal and financial information when applying for credit, which will help determine your affordability and provide you with a suitable interest rate. Apply for an RCS Loan and get a decision in seconds.
*Service and initiation fees apply.
MORE ARTICLES ABOUT
RELATED ARTICLES