The difference between a financial planner and a financial advisor
11 AUGUST 2023
There are a number of financial professionals out there that consumers should consider when seeking financial advice.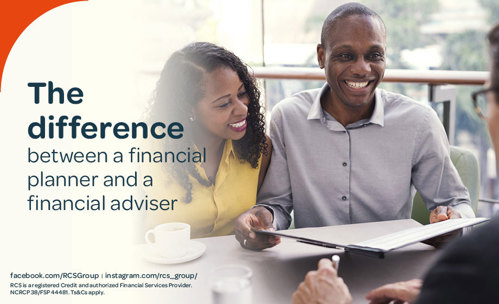 The terms "financial advisor" and "financial planner" are among the most popular titles for individuals who require help planning and managing their finances. It is important to note that every financial planner also serves as a type of financial advisor. However, not every financial advisor is necessarily a financial planner.
In order to choose a financial planner, it is important to consider the overall financial planning environment. As per the Financial Industry Regulatory Authority (FINRA), there are no fixed limitations in terms of background, allowing for almost anyone to claim to be a financial planner. Financial planners may consist of professionals within the financial space such as brokers or investment advisors, insurance agents, practising accountants, or even individuals who do not possess any financial credentials. This highlights the need for users to perform their due diligence before parting with their money when dealing with any financial advisor.
Financial Planner
A financial planner serves as one type of financial advisor, who aims to assist companies and individuals in the creation of a long-term financial goals program. The planner may have specialised in aspects such as investments, taxes, retirement, or even estate planning. In addition, the financial planner may have a variety of hold licenses or designations to their name, including Certified Financial Planner (CFP), Chartered Financial Analyst (CFA), Chartered Financial Consultant (ChFC), or Certified Investment Management Analyst (CIMA), to name a few. Read more on reasons you need a financial planner
Financial Advisor
The term "Financial Advisor" serves as a more broad term for a professional who assists you with the management of your finances. In return for paying the advisor, they help you with any number of money-related tasks. A financial advisor could assist you with the management of your investments, broker the sale and purchase of stocks/funds, or even create a comprehensive estate and tax plan for you. If the advisor works with the public, they are required to hold a FINRA Series 65 license.
Additionally, a "Financial advisor" also serves as a general term that includes the various subsets of the financial advisor group, including stockbrokers, insurance agents, money managers, estate planners, bankers, and more. With this in mind, here are some of the most important questions to discuss with your financial advisor.
Key Differences
Although the two terms are very similar and overlap with their respective service offerings, a financial planner can technically be viewed as a type of financial advisor. To be more specific, a financial planner is a professional who assists individuals or businesses achieve their long-term financial goals. These goals could include: planning for retirement, saving for your child's college education, the down payment for a home, and the list goes on. A financial planner makes use of a strategic portfolio allocation to conduct investments with relatively long time horizons, which aims to ensure that expected returns and risk tolerances are in balance.
On the other hand, a financial advisor is a broader term for an individual who may be involved in the same type of planning, but with additional involvements in other areas of money management/financial services. For example, they may be able to provide: life insurance, real estate, or accounting services, place short-term trades, and/or provide banking accounts.
MORE ARTICLES ABOUT
RELATED ARTICLES