All You Need To Know About Spending
16 AUGUST 2023
We spend our money every day, sometimes without thinking. It's important to know how to control your spending, and to make it easier to do so. Read further to learn tips and about a solution geared to help you control your spending.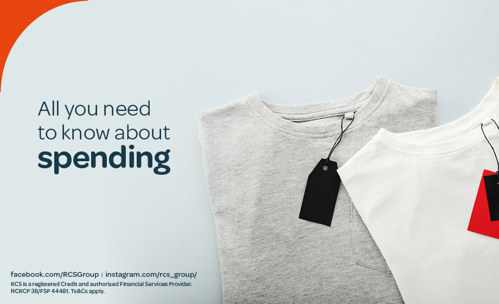 How to control your spending
Receiving income every month gives you the opportunity to pay the bills, make purchasing choices that affect your future financial goals and provide for your family. However, we all love a little retail therapy and sometimes need to splurge a little.
How much you have available to spend from your monthly income depends on how well you manage your money and keep track of your spending. Between things like groceries, clothes, gifts, homeware etc, there can be a lot that you need to account for. This means that it's important to make informed spending choices; cutting back where you must or spending a bit more in order to reach a goal. Understand how you are using your money and where it is going.
Here are a few tips on how to control your spending:
Start budgeting ASAP - this will help you take account of how much capital or credit you have available each month and where your money needs to go. This includes paying bills/rates, food shopping, pet shopping, home/car repairs as needs and gifts, tech accessories, decor etc. as wants.
Keep track of exactly how much you are spending - monitor how much money or credit you are using each month and for what reason. This will help you get a better understanding of your own spending habits and what you might need to change. For example, spending too much credit on smaller purchases and making large purchases often.
Switch to an RCS credit card to make spending simple and manageable using one payment card - RCS credit card includes benefits such as no transaction fees and optional customer protection insurance.
For more tips read our article on how to take control of your credit spending.
How taxes affect your spending
When you spend your money, dealing with taxes is a part of it. Where your money goes with each purchase or each monthly paycheck takes into account what taxes you need to pay. This is an important factor in your personal finance.
So how does taxes work? You start paying tax once you start earning an income until the age of 65. Visit SARS Tax and starting work to learn more about the scale that is used to determine when you should start paying taxes. Each tax year starts on the 1st of March and ends 28th February, and a return needs to be submitted during filing season.
As you earn an income, your employee taxes you each month. At the start of filing season, you submit a tax return, which SARS assesses. Thereafter you either need to pay more or get a return on your taxes. If you make a late payment, you'll have to pay a late payment.
Learn more about the tax rate in South Africa. Income tax is payable on income that you receive, so these are for example; income from business activities, directorships, trusts, investment income, rental income, royalties income and annuities/pensions.
Budgeting and Spending
Use tools to help you keep track of and manage your spending, with budgeting, with budgeting being one of them. Budgeting is the process and strategy of creating a plan to manage and spend your money, balancing your income with your expenses. This will help you determine if you have enough money to spend on the things you need or to help you figure out what you can cut back on. Budgeting is important because it will help you avoid falling into debt if you reach a point where you don't have enough money.
The four most common budgeting types are:
Zero-based budgeting - This is the assumption that all your budget targets are zero and every need/want has to be justified.
Incremental budgeting - Last year's figures, a percentage is added or subtracted to get the current year's budget.
Activity-based budgeting - A budgeting approach that determines the number of inputs needed to support the outputs/spending requirements.
Value proposition budgeting - This budgeting method is about making sure that everything included in the budget is of value and importance.
Visit a few of our other articles to learn more about personal budgeting, teaching your kids budgeting, and tips on how to budget effectively.
MORE ARTICLES ABOUT
RELATED ARTICLES