Why you still need a budget during a recession
15 AUGUST 2023
There's no better time to maintain a budget than now as the country faces a recession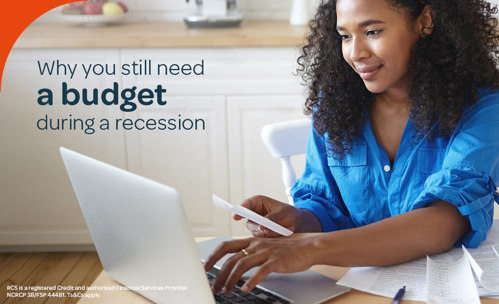 Following the country's fall into a recession in the last quarter of 2019 and with the many challenging economic effects the Covid-19 pandemic could pose for the country and its citizens now's the time to be especially careful about how you spend your cash.
Here are six things to remember about keeping your budget:
1. A budget should not be hit-and-miss
Putting together an appropriate and functioning personal budget is not a once-off thing. Besides needing updating every so often, a budget should also be dynamic. With the country's economic standing and the impact that the Covid-19 pandemic has had on job security, it's a crucial time to relook your expenses. Nip, tuck and tweak your budget until it is right for you and doing what it is supposed to do, looking for areas where you can cut back more to save and paying off your debts faster.
2. Do not use a credit card until you can budget properly
Credit cards aren't bad. In fact, they can be very useful and even serve as a valuable tool for managing money. However, until you're comfortable working with your personal budget, don't touch a credit card! This will help teach you to live within your means. Getting and using a credit card before you are able to live within your means could have devastating results, leaving you with a mountain of debt that you may end up spending the rest of your life trying to get over.
3. It is not a quick-fix
Putting together a personal budget is one of the first positive steps you can make to take control of your financial future. It is, however, not a once-off or a quick-fix. It is simply a tool. If your personal financial situation is 'broken', a budget may be a way to navigate out of a sticky situation. Just remember, it's not going to happen overnight. In addition, the discipline you learn by constantly monitoring and checking yourself against your budget will be invaluable in building personal resilience when it comes to not being a spendthrift.
4. Track your spending
If you're someone who is comfortable with numbers and who knows your way around a calculator or spreadsheet, then go ahead, interrogate your spending over the last month. Add up the numbers and see if it, well… adds up. However, if you're not a numbers person, just looking back through all your spending (without adding up the amounts) will give you a good idea of what you are spending your money on. It may even be a bit of a shock! Try to get into the habit of looking through your receipts and bank statements every month. It is an invaluable way of seeing where your money has gone and deciding where it should go in the future.
5. UNDERSTAND WHAT PAYMENT HOLIDAYS MEAN
If you're trying to secure a payment holiday with your lender, make sure you understand the financial implications in the long term. This includes knowing the interest rate and how long your payment terms will be extended for, and how that will impact your plans or goals. Furthermore, if you have secured payment holidays for some of your expenses, that shouldn't mean you can use that additional cash elsewhere irresponsibly.
6. START YOUR BUDGET
Ultimately, a budget is simply supposed to be a tool to help you pay off debts, to not spend more than you earn, and to start saving.
MORE ARTICLES ABOUT
RELATED ARTICLES