Budget Building Tips 2020/2021
15 AUGUST 2023
As the holiday season fast approaches, we tend to spend more easily and splurge when we could be saving for the coming new year. Learn a few budget building tips to ensure your new year starts on the right foot. Budgeting is an important skill to have when saving up for life milestones. However, having a personal budget can also help manage daily finances. Especially after an unstable financial year, the best strategy is being fully prepared for the next year.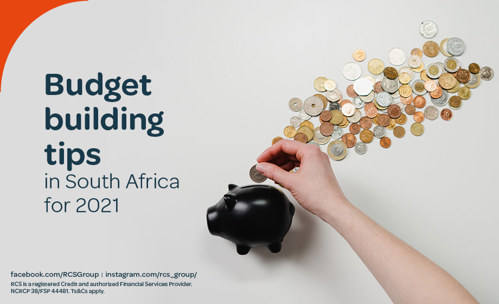 How can you start saving more in 2020?
It is never too late to start creating your personal budget and start saving in 2020. By doing so now, you can set yourself up for 2021 and avoid unplanned for financial situations. To start budgeting, you will first need to understand the process;
Work out your income after tax
Deduct your expenses such as life insurance, medical aid and take into account any other income you receive. This will give you a clearer picture of how much money you can budget with.
Choose a budgeting plan
Your budget needs to cover your must-haves and wants. There are different ways to budget your money according to what suits your needs best.
Track your budget progress
Use from the many online budgeting and savings tools available to make sure that you are budgeting as you need to.
Review your budget regularly
Expenses and income can change from a month-to month basis, be sure to adjust your budget when there are changes.
How often should you review your budget?
Budgeting is a long-term financial process, it takes constant adjusting and monitoring to make sure that it is doing its job. Reviewing your budget allows you to keep an eye on if your budgeting methods are making a difference in your finances. Assess how much money you have allocated to budget and if you can find any areas for improvement. Aligning your spending habits according to your budget encourages you to keep on track to reach your financial goals.
Aim to review your budget at least once a month or whenever you get paid. Also consider quarterly and annual budget reviews to assess your budget over longer periods of time and fine-tune where necessary. Ask yourself these questions when reviewing your budget:
What did I do well?
What didn't I do well?
How can I improve?
Has anything changed?
Did I increase my net worth?
Budgeting Tips for 2020 and 2021
There are many ways to budget and track your finances, no matter when you are beginning the process.
In 2020, focus on these budgeting tips:
Check in on your bank and credit accounts like they are good friends. Review your balances, how much you owe etc., without judgement and plans in mind. This will build a more positive financial relationship and avoid guilt or regret.
Start checking your credit for fraud or errors.
Make an emergency fund for real emergencies regarding your house, medical expenses or to help build some stability during a difficult economic period.
Start putting away at least 15% of your monthly income towards a retirement fund if you can afford it.
Use the 'avalanche method' to pay your debts. This means that you should first pay the minimum repayment on all of your debts. Then use any extra money to pay off the account with the highest interest. This will save you money in the long term by keeping track of high interest charges.
Journal and talk about money and how you believe you are managing it. It should not be a taboo subject and being open to advise or help can alleviate the feeling of being alone with a financial challenge.
For next year 2021, consider these when budgeting:
Review your personal loan, house loan or bond and if you have been keeping up with payments. Avoid starting the new year with debt already on your name.
Education expenses for the start of a new school year can be more than we expect. Check if your child school fees have changed and try not to splurge on unnecessary school supplies.
Take into account rate and tax increases when budgeting for the new year.
How to make ends meet on a tight budget
A tighter budget can mean that you might need to let go of certain things to ensure that food is being put on the table every day. Let go of your wants that are not helping you get ahead, for example, that dream home or car. Unnecessary expenses such as expensive take-outs, gym memberships and other monthly subscriptions are money leaks. Notice exactly where your money is going and live within your means. It's important to start saying no to what you and your family cannot afford to indulge in, allowing you to put money towards what really is needed. To help you do this, look out for deals when grocery or clothing shopping or buy bulk if you need to.
Start your new year with financial security and one less thing to worry about.
MORE ARTICLES ABOUT
RELATED ARTICLES