Common Reasons Why Insurance Claims Get Rejected
17 AUGUST 2023
To help ensure that your insurance claims are paid out, we look at some of the most frequent reasons why insurance claims are denied in South Africa.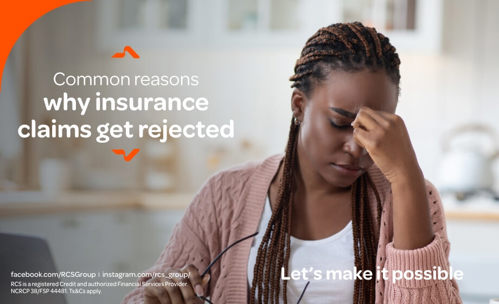 One of the best ways to prepare for unfortunate potential life incidents such as car accidents, medical incidents, death in the family, and loss of income, is to take out insurance. Considering the general devastating impact of incidents like these, the last thing you need is an unexpected financial blow due to your insurance claims being denied.
Prevention really is better than cure. In this article, we look at some of the most common reasons why insurance claims get rejected in South Africa, so you can take the necessary preventative measures to make sure your insurance claims get paid out when you need them.
Regardless of whether you take out funeral cover, an income protection plan, medical insurance, or insurance for your car, there will always be a contract between the "insurer" and you, the policyholder or "insured", all the details of which are outlined in your contract or "policy schedule". Simply put, you need cover and your insurer has you covered, and as long as you do your bit as stipulated in your policy schedule, the insurer will take care of their bit. So, best you know what "your bit" entails.
4 reasons why most claims get rejected
While the reasons why insurers will reject your claims will vary from insurance policy to insurance policy, and will be subject to the type of cover, there are basic insurance terms and conditions that apply across the board. Failure to meet these will no doubt lead to your claims being rejected. Let's look at what they are.
1. Insufficient and inaccurate information
Firstly, you have to provide all the information required upfront in your application for insurance. You have to check that this information is 100% accurate and make sure it remains accurate. If any of those details change at any given point, the onus is also on you to notify your insurer accordingly.
2. Falling into arrears
You need to pay your premium exactly on the date required, whether you pay weekly or annually. If you missed a payment for some reason, or your debit order defaults, it is your responsibility to make alternative arrangements, to do so within the window period specified in your policy schedule, and then to pursue written confirmation that your policy is fully back on track.
3. Untimely claim submissions
Without exception, you have to submit your claim within the timeframe outlined in your policy schedules as there are certain conditions that could change from the moment you report the incident, and may have an effect on the investigation into it, or the costs involved. Quotes that are provided for repairs by panel beaters, for example, are typically valid for only 24-48 hours.
4. Incorrect claim procedures
While one would imagine this forms part of insurance claims 101, a notable number of claims still get rejected because the claims processes are not followed correctly. You have to make sure you follow the prescribed claims submission process to a tee, and that you provide all the information and documentation requested by your insurer at all times.
Example situations for claim rejections
Now that we have a basic understanding of what insurers expect, we can examine some situations in which claims can get rejected, listed below based on the type of cover.
Funeral cover
The policyholder did not tell the insurer about a pre-existing medical condition or did not provide all the critical information about the condition. For this reason, providers of funeral policies in South Africa, such as RCS, have a six-month waiting period for deaths due to natural causes, while accidental deaths are covered right from the outset.
Critical illness plans
Claiming for a condition that is excluded, or illnesses that are not truly critical or severe enough, are some of the top reasons why these claims typically get rejected. Interestingly enough, many people's critical illness insurance claims also get denied because they did not meet one of the most basic criteria, which is to provide the necessary medical documents to support the statements that are made in the claim.
Income protection cover
In this case, it's not so much claims being rejected per se which is the biggest issue, but the fact that the income protection pay-out falls short of expectation. This is because many people fail to adjust their packages as their income changes. Injuries that are self-inflicted or deliberately caused are also a leading reason for these types of claims being denied.
Life insurance
Apart from the usual problems, such as wrong and outdated information and missed payments, a widespread issue pertaining to life insurance claims is the avoidance of necessary medical tests. This is a sure-fire way to get your claim rejected, so best you go for the required medical tests when asked to do so.
The reason for claims being rejected may also be in the "fine print"
While many of these reasons for insurance claims getting rejected seem obvious when you really look at them properly, insurers can also sometimes find contentious "sticking points" or "small print" reasons to challenge your claim. For example, they could contest whether a lost or stolen item was used for personal or business purposes, and if your policy does not explicitly state that these items are used in the line of business, they may not be covered.
Essentially, there is no doubt that you need insurance cover to establish financial peace of mind, but to help make sure your insurance is fool-proof, you do need to take the time to familiarise yourself with all the Ts and Cs. Click here for quick and easy personal insurance with no fuss, and no hidden Ts and Cs.
MORE ARTICLES ABOUT
RELATED ARTICLES