Financial Wellness Gift Ideas for Valentine's Day
24 AUGUST 2023
Valentine's Day is around the corner and you might be searching for that perfect gift for your partner. Why not a gift that goes beyond Valentine's Day? Financial Wellness gifts are unique and could be just what your partner needs.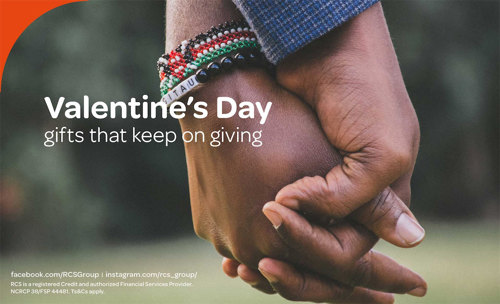 Although flowers, chocolates, and teddy bears are classics, they are one-time gifts that may not properly convey how you feel. A relationship is a commitment to be better people, together. What better way to do this than with a financial wellness gift that is long-lasting and increases in value over time? If it's within your means, show your partner you care by helping them step up their financial wellness and prepare for your future together. This shows investment into your relationship, beyond simple monetary gifts.
Financial Gift ideas
Savings account for your children
As a family, Valentine's Day is all about joy and love. And your children are vital to that joy. Open up a saving account for your children to introduce them into the world of finance and share the happiness with your whole family.
Insurance for the future
Your future together is not always set in stone as you never know what might happen. Prepare for possible events that could put your partner under financial strain. Take out a Personal Accident plan or Income Insurance if you're the main breadwinner for your family, to make sure that their financial needs are covered in the instance that you cannot provide. Funeral plans, in the event of your death, will give your partner some comfort that they will not have to worry about money when they are in mourning. This allows you to safeguard their future when you're not there.
Help pay off their loan
Having a loan and keeping up to date with payments can be a strenuous task for one person. Help alleviate some of that pressure by providing some funds, if you can, to pay off their loan faster. This shows your support in their financial wellness.
A financial advice appointment for two
The past year has been a tough one to navigate in terms of finance and planning goals. Book an appointment with a financial advisor or planner for both of you to discuss how to get back on track or plan an investment strategy. This cements your equal standing in financial matters and aligns your dreams.
Invest together
There's no better way to say "We'll be together forever" than investing in something that you both love and benefit from the returns together when you retire. Take out shares in your favourite brands or open up a retirement fund. Start putting away on Valentine's day and reap the returns long after.
Long term value on Valentine's day gifts carries more meaning than your ordinary box of chocolates or red roses. Show you care by gifting them with tangible support and commitment into your future together and their financial wellness. Visit our many financial wellness and education guides for more ideas.
MORE ARTICLES ABOUT
RELATED ARTICLES