How payment technology is changing the rulebook on SA retail
29 SEPTEMBER 2023
The countrywide adoption of Bitcoin payments by industry titan, Pick 'n Pay, late last year, heralded the first among many new developments in the payment technology landscape. The past few years have seen the proliferation of new methods of transacting, with local fintech innovators earning their place within the new-generation payments ecosystem. Consumer credit has followed suit, making new inroads into meeting the national imperative to build a more financially inclusive nation.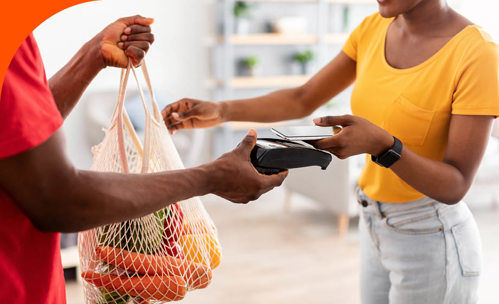 Major developments on the payment technology landscape
"We've now seen card payment innovators like Yoco bringing a new level of functionality to the local small business sector," says Gavin Lomberg, Chief Commercial Officer at credit provider RCS. "Portable card machines were eagerly adopted by many of the country's small businesses. Larger retailers, like Pick n Pay, launched contactless payments, and adoption was accelerated by the need to limit physical contact and curb the spread of COVID-19."
Contactless payment options like 'Scan to Pay' are now becoming popular across a variety of different businesses. WiCodes, issued by retailers, as well as similar scannable QR codes delivered via mobile apps are proving highly effective at bridging the gap between traditional instore card or cash payments, and card-not-present (CNP) payments.
Where digital payments were once confined to the world of e-commerce, the market is seeing the onboarding of larger, more traditional retailers who are embracing the need to offer shoppers better access to new technologies.
The bigger picture
"We at RCS have been perfectly positioned to ride the new wave of digital innovation," says Lomberg.
"Digital transformation is rewriting the rulebook on payments and by extension, the landscape of consumer lending. Arguably, the biggest change that this transformation has brought about is a greater level of accessibility to more diverse groups within the population.
Digital technology has broadened the reach of financial sector players and credit providers, extending its impact to the previously unbanked and underserved. The expansion of the payment technology space not only speaks to the increasing consumer demand for more choice and convenience, it's also about welcoming new groups of people into the population of financially active South Africans."
The next step for consumer transacting
Bitcoin is the latest addition to the wide range of payment options offered by Pick 'n Pay. To date, it is the first cryptocurrency to join the ranks of one of the country's largest retailers, operating adjacent to credit options like the RCS store card.
For Carel van Wyk, Founder of CryptoConvert – Pick n Pay's Bitcoin technology partner – their latest development takes the power of integrated technology a step further.
As van Wyk explains: "Blockchain technology provides one of the most efficient means of connecting South Africans to the universal financial ecosystem and gives more people access to the global economy. As such, it has the potential to serve as an effective way to address the digital divide.
We need to bear in mind that change takes time and the mainstream adoption of Bitcoin as a popular payment method will take at least another five years to materialise. In the South African market, which is dominated by card and cash payments, Bitcoin remains a powerful disruptor."
Change across the spectrum: from crypto to cash
The mainstream adoption of cryptocurrency by Pick n Pay is a prime example of how quickly new technologies like Blockchain have taken root at the level of the consumer. But digital technology is just as effective at enabling new innovations as it is at bringing legacy systems up to speed.
Until fairly recently, the greater uptake of payment technology was stymied only by the fact that cash remains king in the South African economy, due to a number of reasons. But, with the launch of a new rapid payments programme, PayShap, cash has met its contender. With PayShap facilitating the real-time clearance of smaller transactions (under R3000), the system is set to reduce the country's reliance on cash and improve both safety and convenience for consumers and small businesses.
However, the affordability of banking charges for applications of this kind will continue to create a barrier to entry for many. And, as van Wyk says: "The South African Reserve Bank will need to work hard at making the system as user-friendly as possible by creating a hassle-free funnel that addresses pain points and encourages fewer drop-offs. Affordability and ease of use will be make-or-break factors for any new transacting technology going forward."
Changes afoot in the world of credit
The collective impact that innovations such as these will have on consumer pockets is that transacting across the board and via various mediums will become cheaper. Several innovators in the world of consumer credit have focused much of their efforts on making credit more affordable. This is evidenced by the emergence of Buy-Now-Pay-Later (BNPL) models which began to take hold in the years leading up to the pandemic.
"We've also seen credit going virtual fairly recently," says Lomberg, "making its foray into a previously unchartered territory. Virtual credit systems are supported by a level of digital integration that has significantly lowered what has traditionally been a lengthy approval process. It has also eliminated the lead time and logistics needed to deliver plastic cards to consumers."
According to Lomberg, these developments will see the barriers to entry into the credit market being lowered substantially. This will in turn allow lower-income earners to enter the fold and begin cultivating credit histories that will set them in good stead to access better finance options in future.
Some of the country's most established retailers are buying into this value proposition. The most recent example of this is Game's launch of a virtual card facility that will enable credit purchases directly from the retailer's online store. This new system was developed to cater to the increasing consumer demand for more ways to shop, repay and manage credit easily and efficiently.
Game's virtual card will be powered by an online system created and administered by RCS.
 "This intuitive evolution into the virtual credit space resonates with our broader goal of driving financial inclusion and enabling features and functionality that appeals to the next generation of South African consumers," concludes Lomberg.
MORE ARTICLES ABOUT
RELATED ARTICLES