Types of loans and when to use them
06 SEPTEMBER 2023
Saving money before making a large purchase is a great idea. However, in practice, this isn't always possible - particularly for major purchases like university fees, a car, a house, as well as unforeseen costs such as medical costs.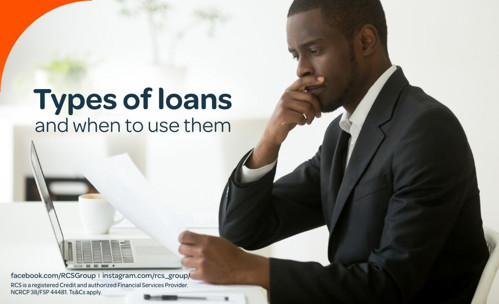 From starting a new business to throwing the wedding of your dreams, borrowed money can be used for many different things. However, with so many different kinds of loans available, how can you know which one is best, and for what reason? Below we'll explore the most common kinds of loans and how they work.
Personal Loans
Personal loans are the most common type of loan, with payback terms ranging from 24 to 84 months. Except for a university degree or illegal activities, they can be used for almost anything. This is why they will ask you what you plan to do with the loan during the application process.
Personal loans are simple to get and may be done online via a bank, or online lender. Borrowers with good credit may get the cheapest personal loans, which have low interest rates and flexible repayment options.
For people who need to borrow a little amount of money and are certain that they will be able to pay it back within a few years, a personal loan may be the best option.
Apply for an RCS Loan from R2 000 and up to R250 000 with interest from as low as 15%* and you will know if you qualify in seconds. Use our fast, paperless online application here. *Service and initiation fees apply.
Credit Cards
When a customer pays with a credit card, he or she is basically taking out a tiny personal loan. No interest is charged if the debt is paid in full right away. The difference between a credit card and a personal loan is that the credit card is a revolving debt. The card has a predetermined credit limit, and the cardholder may borrow money up to that amount and return it over time. Credit cards are quite handy, but they need self-control to prevent overspending.
Car Financing
Car loans are secured loans that may be used to purchase a vehicle and have payback terms ranging from three to seven years. The vehicle serves as the loan's collateral in this situation. If you don't pay, your car will be repossessed by the lender.
Credit unions, banks, online lenders, and even car dealerships are common sources of car loans. Some car dealerships include a financing department that may assist you in obtaining the best loan possible from one of their partner lenders. The important thing to remember here is that the sales people are usually after making the highest commission and won't always find the best deal for you. Do your own research around negotiating a low interest rate.
Debt Consolidation Loans
Debt consolidation allows you to simplify your payments by taking out a new loan to pay off your existing debts, leaving you with just one monthly payment. A debt consolidation loan may assist you in two ways if you have high-interest debts like credit cards or a high-interest personal loan. For starters, you could be eligible for a reduced monthly payment. Second, you could be eligible for cheaper interest rates, which can help you save money in the long run.
To receive a debt consolidation loan with a lower interest rate than your present loan or credit card, you must first search around for a lower rate than your current loan or credit card. If your credit has improved since you took out your existing loan or card, you're also more likely to qualify. If you qualify, your lender may pay your debts for you automatically, or you may have to do it yourself.
Pay-Day Loans or Temporary Loans
Payday or temporary loans are a form of short-term loan that typically lasts until your next salary arrives. You don't need a good credit record to qualify for these loans. However these types of loans are often exploitative. They charge exorbitant loan fees and if you can't pay off your loan by your next payday, you may roll it over. It seems to be beneficial at first, until you learn that more fees are piled on, trapping you in debts that are often way more than the amount you initially borrowed.
Things to remember:
Personal loans and credit cards have high interest rates, but no collateral is required.
Payday loans can be exploitative - try to avoid these.
When shopping for car finance, don't let the sales person take you for a ride.
MORE ARTICLES ABOUT
RELATED ARTICLES